As human beings, we really do like to think we're in control of everything. Our career paths. Our families. Our finances.
Yes, even our faith.
But we're not. Not even close.
Only God is sovereign. Only He knows all of what has happened, what is happening, and what will happen.
Doesn't absolve us of responsibility for making good decisions, of being good stewards of everything He's given us… time, talents, money, decisions, etc. But there will ALWAYS be circumstances and situations utterly outside our control.
We received a big reminder of that today: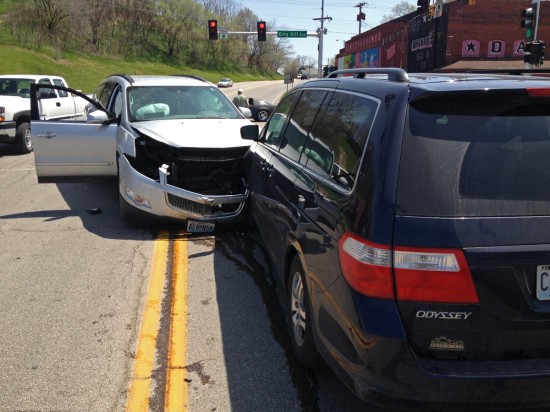 Yep, that's our van. While sitting innocently at a intersection, two vehicles violently collided in front of us. The silver Traverse you see in the photo smashed in our front bumper, and gave all of us a big jolt we weren't expecting.
It happened in slow motion (don't all events like this?).
I was sitting in the driver's seat, stopped at the red light. Nancy and I were having a good chat with the five kids in the back (ours and two friends). Everyone was having a good time, looking forward to a fun lunch together. We'd had a great morning at church… my best in probably four months.
WHAM!
I'm shocked into attention, and spot a silver Mercury flying in front of us left to right. I have no idea where it had come from.
I see the silver Traverse had spun towards us. Collision imminent.
I considered throwing the van into reverse. Nowhere to go… there was someone behind me.
I yelled to Nancy and the kids. "HOLD ON!!!"
I grabbed the steering wheel firmly. Stepped on the brake as hard as I could.
SMASH!
I turned to my family. "Everyone okay?"
I hopped out, knowing our part of the collision was minor. I ran to the door of the Traverse. Checked on the passengers, who were piling out. They seemed shaken, but okay.
I looked over toward the Mercury. It was a mess… a kid practically fell out of the driver's seat. Blood pouring down his forehead from some good cuts.
Injured, but okay.
People were coming from everywhere to the scene. Police had been called.
I double-checked my family. Still okay. Made a few calls.
Police and ambulance arrived. The scene was replayed in everyone's mind. Questions swirled. Organized chaos.
As I sit here tonight, I replay the scene in my mind. Nothing could be done differently. We were innocent bystanders, and our whole day changed in an instant.
My safe driving didn't matter. Our plans for the day… out the window.
Any control I thought I had… gone.
As if it were ever truly there.
I guess that's the point of all this, if there is one.
We're NOT in control, no matter how much we like to think so. Life is fleeting, and can be taken from us in an instant… whether we're ready or not. As Scripture says:
James 4:14, ESV
What is your life? For you are a mist that appears for a little time and then vanishes.
I don't mean to be dramatic, but seriously… do you ever realize what little control you really have? How you live by faith moment by moment that nothing outside our miniscule window of control enters the picture and throws our perfectly planned lives into chaos?
And if you live by faith, what are you placing your faith in?
Is your object of faith worthy? Is your object of faith reliable? Is your object of faith in control at all?
Worth thinking about, because you're not, and neither am I.
Personally, I can be okay with that. Then again, I know where my faith lies, and I know that He IS reliable.
Tags: control, crash, faith, sovereignty
I'm not sure I know exactly how to put my thoughts into words tonight, but I've been thinking. And I've got more questions than answers as a result. So, for all three of you that may actually still read this site, bear with me as I pour out my brain and heart here through this poor medium of blogging. This may be tough to follow. But I guess that's alright.
If you're a close friend of mine, you'll know that the last four months have been rough for us. We've been dealing with some family troubles centered around the dreaded c-word: cancer. I won't go into detail more than to say it's a close family member out of respect for that person's privacy, but suffice it to say that the news we received was not good. Not just any kind of c-word… terminal c-word.
We've been riding a roller-coaster of emotions. We've travelled more in the past four months than we perhaps even over the past four years (or maybe it just seems that way). Nancy and I have had to go separate ways far too often, and split the family more weekends than not to try to keep juggling all of the various balls we find ourselves tasked with keeping airborne. Our church attendance has been a joke. Stress levels way too high. And our faith… challenged.
********************************
Throughout this same general time period, there have been some horrific news stories. Sandy Hook. The Boston bombings. West, Texas. Tragedies, all.
And there has been societal change, political turmoil.
I've watched "the church" respond to all of this in interesting ways. Anger. Outrage. Political maneuvering. Calls for organization. Calls for prayer. Calls for activism. Prayer.
Rarely with peace.
********************************
I don't know that the two are related in any way, to be honest. But there is a common theme running through my head… a difficult thought.
In times of troubles, Christians are faced with tough questions.
Where is God during _______?
Why didn't He do something?
Why would He allow _______?
Is God hearing my prayers?
Why isn't He listening?
Are you even real?
Do you even care?
********************************
These questions have become very real to me through our times of trouble. I've read of Job in the Old Testament, and how God allowed his faith to be tested… how He gave Job over to Satan to do anything except take his life. I've wondered if God does the same nowadays… "Have you considered my servant _______?"
Has my name, Nancy's, or others we love deeply been in that place?
When trouble seems rampant, and God seems distant? As if He's not listening?
Why? Did we do something? Do we deserve this somehow?
********************************
I think Christians as a whole react the same way during times of trouble; even societal troubles.
We wonder if God cares. "Can't you see what's happening God?" "When will you do something?"
We look at ourselves, collectively. Where have we failed? What didn't we do to prevent this? What if we only _______? Would God listen then? Could we change things?
********************************
I know this is disjointed. The point I'm trying to get to is that I see a parallel. What I see in our lives during our time of trial is not that terribly different from what I see in "the church" when everything seems to be going wrong with the world.
A test of faith. A lack of peace. Perhaps, a lack of trust.
Maybe it's best summarized by questions (after all, that's mostly what I seem to have right now).
Is Jesus really enough?
What if turning to Jesus for answers is the only answer?
What if letting our questions go is His only response… just to trust Him?
Will we really be satisfied with Jesus alone?
Or must we have Jesus + _______?
Sure, we all know the good "Christian" answer. But do we truly believe what we profess? What we sing about on Sundays? What we tell others? What we preach to our kids? What we read in our Christian books, or hear about on our Christian radio stations?
Is Jesus REALLY enough?
Perhaps that's the question God has been trying to get us to consider all along.
Tags: difficulty, doubt, faith, fear, hurts, Jesus, pain, peace, questions, suffering, trouble, trust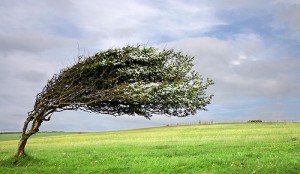 Back in November, I shared a post on this site entitled, "The Winds of Change". Election night had just passed, and we had just re-elected a president whose social views are radically different from years past, one who ran on a platform of "hope" and "change" in his first term, one who presided over some of the most difficult economic changes of our times. Re-election in such circumstances was unprecedented. Quite honestly, I was somewhat in shock.
But not by his re-election.
I found myself somewhat shocked at the realization of just how quickly the winds of change were blowing in this nation, in our culture, in our world. I reflected upon what this meant for the follower of Christ. How should we respond?
This morning during my commute, I heard the song I quoted in that article once again: "The Winds of Change", by Scorpions.
Take me to the magic of the moment
On a glory night
Where the children of tomorrow dream away
In the wind of change.
The song, quite simply, is beautiful. It reflects the optimism of the time, and certainly brings many fond memories of the hope I saw for the future.
It's that point that I began to reflect upon.
Optimism.
When I was 13 years old and that song came out, I recall a time where optimism about the future seemed the norm. Where anything was possible. A world awaited where my generation was free to pursue all of their dreams.
I have to wonder, where is that optimism today?
Is it still there? Is hope still rampant? Or are the changes we continue to see in the world killing our outlook toward the future?
When we look at social change and shake our heads?
When we watch our politicians, amazed at the division and apparent lack of focus on what's good for our nation?
When we are bombarded by a steady stream of bad news from our 24/7 media?
When the social media we surround ourselves with encourages constant disappointment when we compare our everyday to everyone else's highlight reels?
When we look at world events, and even our own nation to see economic calamity, and question the security of our future?
When hurt and pain seems to be invading everyone's lives, and there simply are no easy answers?
I don't know. With all of the things in this world that seem so negative, I can't help but wonder…
Are the winds of change now blowing destructively against the outlook of optimism, or have the sands of time simply changed my view?
December 24th, 2012 |
Comments Off

| Posted in » My Life / Family, Pictures

Last year, we put together our first family Christmas photo card. We got a later start this year, but we're continuing the tradition nonetheless!

Enjoy!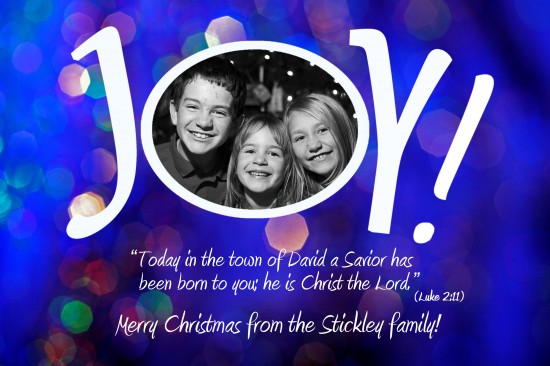 Christmas truly is good news of great joy; we have hope of salvation because Jesus came into our world!
Wishing all of you the best as you celebrate the birth of our Savior this Christmas!
Tags: Christmas, Christmas card, Christmas photo, family, family photo, good news, great joy, Merry Christmas, photo
Last Friday, we were all hurting. Tragedy had struck Sandy Point Elementary, as a madman entered and took the lives of 26 people, including 20 kids.
All of us were struggling with questions, and searching for answers, trying to process this unthinkably evil act.
Why?
For those of faith (and perhaps even those not), there's a big gaping question: where was God during this?
I can't pretend to have all the answers. We'll never know why God allowed this, but the fact remains… God is STILL sovereign, STILL in control, and NOTHING escapes his foresight and power.
Sadly, many Christians don't seem to get this. Many rant about how we need prayer back in schools, how we've kicked God out of so much of public life, that it's no wonder stuff like this happens when God isn't present.
SUCH a short-sighted view. Have we forgotten everything about God?
This article by David Price was brought to my attention today on just this topic. It may not provide answers for everything, but it certainly is worth reading. Especially for those well-meaning Christians who say things out of frustration that simply make no theological sense.
Think before you rant next time, Christians.
Please?
Tags: all-powerful, Christians, faith, God, omnipotent, omnipresent, pain, ranting, suffering, theology
Yeah, I know the post title is stupid… "Bionic Hearing". Blah.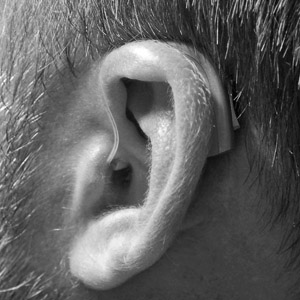 It's better than "Miracle Ear".
Whatever the case, I'm marvelling right now at the difference a hearing aid makes.
Today, I had my first post-surgical follow up for the cholesteatoma surgery I had last Monday. The right ear is healing nicely, but we won't know whether I'll get full hearing back in that ear for another two or three months. A bit of a waiting game, and I'm fine with that. The good news of the day with the right ear is that it should be a one and done surgery!
As for the left, where I'd had some minor "touch-up" work done?
Apparently my hearing has actually improved. It's good news, but it's still not back to normal levels.
Enter the miracle of technology.
Boom. I'm hearing sounds now that I had almost forgotten about.
So yeah. My hearing may not be 100% natural anymore, but I'm definitely okay with bionic hearing.
Now if I can just get an Iron Man suit to go with it.

—————————————————-
For more readings on my battle with cholesteatoma, check out these posts:
Tags: bionic, bionic hearing, cholesteatoma, cholesteatoma surgery, hearing, hearing aid, hearing aids, Iron Man, technology
Tonight, our nation is wounded. A community in Connecticut is torn apart. 27 people (if I read the last media account right) are dead, among those 20 children.
At around 9:30 this morning, a deranged person entered into what should have been the safest of places, a kindergarten classroom, and opened fire. Within minutes, the lives of far too many innocent victims were cut tragically short.
Forgive me if this is hard for you to read and process.
It is for ALL of us.
With that as our backdrop, our nation grieves. We are hurting people, questioning why. We wonder how anyone could possibly do this… what kind of person could kill children, innocent five and six year old kindergarteners, no less?
As the night comes, and we begin to process these horrific events, we look to each other for comfort. We hold our children tightly, assuring them they'll be safe. We struggle with answers to their questions… even moreso, our own.
What kind of world do we live in?
Tomorrow, the questions will persist.
We'll learn more about the shooter, apparently a 20 year old man named Adam Lanza. We'll learn more about his days prior to this. His friends. His family. His issues. We'll speculate as to what drove him to do it. What kind of monster? How mentally ill? Why?
Our answers will be woefully inadequate.
Worse? This tragedy will be used as a springboard for political discussion. Our politicians will question whether we have appropriate gun control laws. Whether the types of weapons used should be banned. Broad statements will be made. "This wouldn't have happened if…" "This could have been prevented by…" "This wouldn't have been so bad if…"
We'll see the worst of political finger-pointing; statements made by legions of opportunists who will let no tragedy go to waste.
And victims' families will continue to suffer this horrific loss.
We'll continue to hurt as a people.
We'll struggle with unanswerable questions.
With all of the finger-pointing, all of the political opportunism, all of the psychological profiles, all of the background information… with all of the information we'll be presented with over the coming days, we'll still be left with a question we can't answer.
Why?
Why…
Why!
This question will be asked in a million different ways. What can be done with school-shooter training to keep these children safe? What can be done with background checks before guns are purchased to keep people like this from obtaining weapons? What safety nets were missed such that this deranged individual was not stopped? Who could have done something? What happened in this person's life to drive them to this point?
No matter how many of these questions are answered, that one central question we all struggle with will persist.
Why?
The fact is, we KNOW the answer to that question. We just don't want to admit that it's not enough.
Why did this happen?
Because evil… unthinkable evil… exists.
Unthinkable evil was made manifest before all of us today.
And we don't know how to process it.
We want to believe that people are inherently good, and that unthinkable evil like this is beyond us all.
We want to believe that this shooter was simply mentally unstable… that a chemical imbalance in his brain caused him to lose his mind and do something we don't want to imagine.
We want to believe that there's a reason for this, because we want to believe that this kind of unthinkable act has some sort of rational, believable, preventable cause.
We want to believe that evil isn't really the sole root.
But it is.
Somehow evil prevailed in the shooter's life. Whether he was overcome by evil somehow, or had a heart filled with it? We'll never know.
Does it matter? Our questions won't have sufficient answers. Our search for understanding will be left unfulfilled.
There are no rational answers that will suffice for the "why" behind this unthinkable evil.
So where do we go from here?
As we struggle.
As we hurt.
As we deal with the reality of unthinkable evil?
For me, I rest in the reality of unimaginable GOOD.
Of God.
I could preach my faith to you, but I won't… you can read my story here on this site and learn much about what I believe. You can contact me, and I'll try to explain. Whatever you need, I'll try.
Suffice it to say that because I see the reality of unthinkable evil in our world, I cannot live without faith that unimaginable good must also exist.
Suffice it to say that because I see the reality of evil in my own heart, I am left with no hope without the intervention of the author of good.
Unthinkable evil MUST be countered by unimaginable good.
And if unimaginable good has an author?
The author is MORE than worthy of my faith and devotion.
That author is worth living for.
That author gives hope.
In the face of unthinkable evil, which we cannot begin to rationalize or understand?
We're confronted with matters of faith.
Where will you turn for answers?
Tags: Adam Lanza, Connecticut, evil, faith, God, good, Newtown, pain, shootings, suffering, tragedy