Archive for October, 2007
Psalm 17:6-7
6I call on you, O God, for you will answer me;
give ear to me and hear my prayer.

7Show the wonder of your great love,
you who save by your right hand
those who take refuge in you from their foes.
Proverbs 15:29
29The LORD is far from the wicked
but he hears the prayer of the righteous.
Matthew:18:19-20
19"Again, I tell you that if two of you on earth agree about anything you ask for, it will be done for you by my Father in heaven. 20For where two or three come together in my name, there am I with them."
John 14:12-14
12"I tell you the truth, anyone who has faith in me will do what I have been doing. He will do even greater things than these, because I am going to the Father. 13And I will do whatever you ask in my name, so that the Son may bring glory to the Father. 14You may ask me for anything in my name, and I will do it."
Romans 12:12
12Be joyful in hope, patient in affliction, faithful in prayer.
2 Corinthians 1:8-11
8We do not want you to be uninformed, brothers, about the hardships we suffered in the province of Asia. We were under great pressure, far beyond our ability to endure, so that we despaired even of life. 9Indeed, in our hearts we felt the sentence of death. But this happened that we might not rely on ourselves but on God, who raises the dead. 10He has delivered us from such a deadly peril, and he will deliver us. On him we have set our hope that he will continue to deliver us, 11as you help us by your prayers. Then many will give thanks on our behalf for the gracious favor granted us in answer to the prayers of many.
Philippians 4:6
6Do not be anxious about anything, but in everything, by prayer and petition, with thanksgiving, present your requests to God.
Colossians 4:2
2Devote yourselves to prayer, being watchful and thankful.
James 5:13-16
13Is any one of you in trouble? He should pray. Is anyone happy? Let him sing songs of praise. 14Is any one of you sick? He should call the elders of the church to pray over him and anoint him with oil in the name of the Lord. 15And the prayer offered in faith will make the sick person well; the Lord will raise him up. If he has sinned, he will be forgiven. 16Therefore confess your sins to each other and pray for each other so that you may be healed. The prayer of a righteous man is powerful and effective.
1 John 5:14-15
14This is the confidence we have in approaching God: that if we ask anything according to his will, he hears us. 15And if we know that he hears us — whatever we ask — we know that we have what we asked of him.
I'll admit… I struggle with prayer. I can't fully explain why… part of it is that I know God is omniscient… part of it that He's omnipresent… yet more because He's sovereign over everything. He knows everything I need, provides for me in accordance to His will… He knows my thoughts before I think them… my prayers before I offer them.
It seems so… well… I hate to admit… pointless sometimes.
Yet in light of Scripture (such as the above)… it's clear that God expects prayer. Regular prayer. Powerful prayer. Righteous prayer. Fervent prayer. Even prayer that feels pointless to the one offering it.
Yet, to those who offer their prayers with complete faith and trust, somehow He hears us and responds… sometimes even answering as we plead.
I just don't get it.
Does anyone?
It's time for Friday photos again (yeah, I've neglected posting them for a while).
Here's a couple of Allison, enjoying the fall weather last weekend at Grandma and Grandpa's. While she certainly doesn't have the largest of smiles in these, I think they're pretty priceless photos. Credit Nancy for these… I was busy getting skunked fishing when these were taken.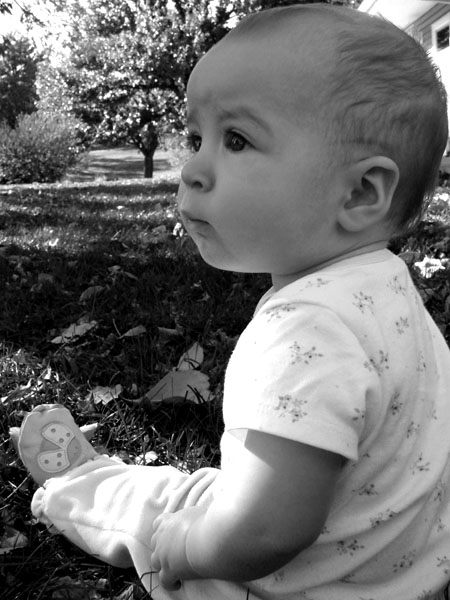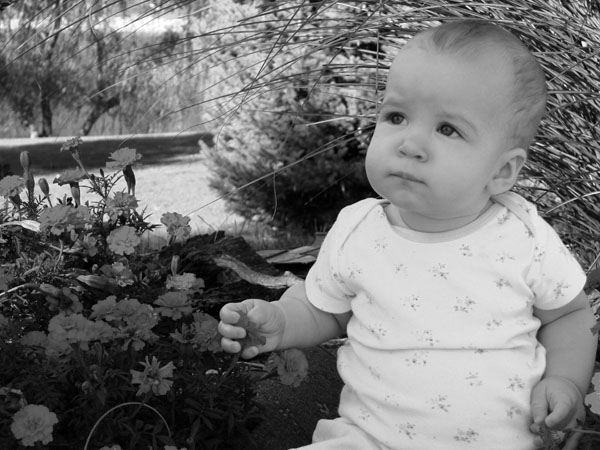 Quick question… have you checked your investment portfolio recently? I'm not talking about Guidestone (for you pastors), your 401(k), IRAs, stocks, bonds, savings accounts, or the like… but the investment portfolio that matters most in the long run.
Check it out…
Matthew 25:14-30
14"Again, it will be like a man going on a journey, who called his servants and entrusted his property to them. 15To one he gave five talents of money, to another two talents, and to another one talent, each according to his ability. Then he went on his journey. 16The man who had received the five talents went at once and put his money to work and gained five more. 17So also, the one with the two talents gained two more. 18But the man who had received the one talent went off, dug a hole in the ground and hid his master's money.

19"After a long time the master of those servants returned and settled accounts with them. 20The man who had received the five talents brought the other five. 'Master,' he said, 'you entrusted me with five talents. See, I have gained five more.'

21"His master replied, 'Well done, good and faithful servant! You have been faithful with a few things; I will put you in charge of many things. Come and share your master's happiness!'

22"The man with the two talents also came. 'Master,' he said, 'you entrusted me with two talents; see, I have gained two more.'

23"His master replied, 'Well done, good and faithful servant! You have been faithful with a few things; I will put you in charge of many things. Come and share your master's happiness!'

24"Then the man who had received the one talent came. 'Master,' he said, 'I knew that you are a hard man, harvesting where you have not sown and gathering where you have not scattered seed. 25So I was afraid and went out and hid your talent in the ground. See, here is what belongs to you.'

26"His master replied, 'You wicked, lazy servant! So you knew that I harvest where I have not sown and gather where I have not scattered seed? 27Well then, you should have put my money on deposit with the bankers, so that when I returned I would have received it back with interest.

28"'Take the talent from him and give it to the one who has the ten talents. 29For everyone who has will be given more, and he will have an abundance. Whoever does not have, even what he has will be taken from him. 30And throw that worthless servant outside, into the darkness, where there will be weeping and gnashing of teeth.'
You've probably read this before… the parable of the talents.
Jesus shared with his disciples about real investment here. God, the Master, has granted us, His servants, some amazing treasures of which we are stewards. Our talents, while not necessarily large sums of money as in the original parable, are extremely valuable to Him, and He's simply entrusted them to us.
So what are you doing with the portfolio of talents God has entrusted to you while He's away? Be it money, skills, spiritual gifts, time, energy, relationships, or anything else… God expects us to look at our talent portfolios and invest what we find within for His glory. We've got to be about the business of growing His Kingdom.
Will you be found a "good and faithful servant" when He returns? Do you know God's true character… that He loves you enough to forgive you even if you mess up while trying to invest the "talents" He's given to you? Or will you be the lazy servant, the one who is so afraid of crossing God… of messing up… of blowing it… that you hide away those things He has entrusted to you in a misguided effort of safekeeping?
Do something with what God has given you. Anything. Just don't sit on your rear end and watch life go by, missing out on the treasures God has placed out there for you to take hold of and be part of… simply because risk is scary.
Live life. Love God. Serve others.
Attempt something great for God today.
October 23rd, 2007 |
Comments Off

| Posted in » Just For Fun...

GodTube… heard about it?

Yeah, it's the Christian alternative to YouTube. It sounds a bit goofy, I know… but it's definitely got a place online (if only for video hosting where you know you won't have to worry about being linked with objectionable content).

Anyway, I was doing some surfing there tonight to get more familiar with it, and was pleased to find some quality stuff. Check out these videos from Coffey (who's a pretty talented musician), and these videos from Community Christian Church (on being Christ-followers vs. simply culturally Christian).
According to Wade Burleson's blog, Jerry Corbaley is asking the IMB Board of Trustees to remove him as a trustee for the "gross and habitual sin" of gossip / slander.
Here's the 153 page letter that Jerry submitted to the Board.
*SIGH*
Here's my proposed solution to this mess… how about Jerry and Wade both submitting to Christian conflict resolution prior to the next Trustee meeting, facilitiated by a trained Christian mediator?
I don't expect that to happen, but it certainly makes sense to me.
No doubt about it, Southern Baptists are awfully proud of their focus on being doctrinally sound. For the most part, it's a good thing. We focus on being Biblical believers… doing what God has directed through His word… trusting and confirming our understanding of who He is to that revealed by Scripture.
It begs the question though… do we often get the cart before the horse when it comes to a focus on doctrinal matters? Do we place an overemphasis on knowing about God instead of developing a relationship that leads to that knowledge?
Bryan Riley has written a post today that could trigger some interesting thought and discussion on the matter. Entitled, "Doctrine Saves", his post asks an important question… do we misunderstand what doctrine truly is? Do we place an overimportance on it when it comes to growing in our faith and sharing it with others?
Check out what he has to say when you get a chance.
October 22nd, 2007 |
Comments Off

| Posted in » In the News..., KC Chiefs

Back in week 3, after a much-needed win over the Minnesota Vikings, I predicted the Chiefs could be anything from 4-3 to 2-5 going into the bye week. It wasn't much of a stretch to make that kind of prediction, of course, but I simply didn't know enough about what the Chiefs were going to be at that point to make any kind of guess as to where they'd end up.

After yesterday's nail-biter over the Raiders, I still don't know, yet this morning, they're sitting at 4-3, in first place in the AFC West.

Not a bad place to be at this point in the season.

Here's what we know going into the bye week:
The defense is much improved.
Jared Allen looks like he'll be punching a ticket to Hawaii.
The offensive line needs work, especially in the running game.
Larry Johnson is inconsistent.
Damon Huard may last the season at QB, but he's not the answer for much longer than that.
Dave Rayner has a huge leg, but seems to miss the easy kicks. We really don't want to have to find out if he can drill a game-winner.
Eddie Drummond is NOT the answer for kick and punt returns.
The uncertainties?
Will the running game improve?
What will Priest Holmes' return do for this team the rest of the season?
Will the offense develop some consistency?
Can the defense continue to carry the team?
Is there any hope for an improved return game?
Can the Chiefs hold serve at home in the AFC West?
This team may be able to compete for a playoff spot in their division, but at this point, it's hard to get too excited beyond that. The Chiefs are clearly not on the level of teams like Indianapolis and New England, and unless something changes, playoff success looks to be a distant dream. Just making it there would be a huge success though, given the way Herm is trying to transform this team.