Archive for May, 2008
May 28th, 2008 |
Comments Off

| Posted in » Bible in a Year

Obviously, I'm quite a bit behind in posting thoughts from daily Bible in a Year readings… quite a bit behind even in my readings. As I was playing a bit of catch-up this morning, I came across these verses from Psalm 46. I don't know specifically why, but they seemed to jump right off the page at me.
Psalm 46:1-3 (NIV)
1God is our refuge and strength,
an ever-present help in trouble.

2Therefore we will not fear, though the earth give way
and the mountains fall into the heart of the sea,

3though its waters roar and foam
and the mountains quake with their surging.
Psalm 46:7 (NIV)
7The LORD Almighty is with us;
the God of Jacob is our fortress.
God… our refuge and strength. God… with us.
Generally, Memorial Day Weekend is seen as the kick-off to summer. We managed to do so a bit, doing a bit of geocaching Saturday and today… but we also managed to see all three kids and Nancy come down with illness (thankfully, all of them are doing better today, with the kids pretty much over it completely). Geocaching was but a momentary diversion to get out of the house… we simply had to get some fresh air!
Anyway, photos from the fun part of our weekend are below.
Here's Jeffrey all set to find our first cache Saturday…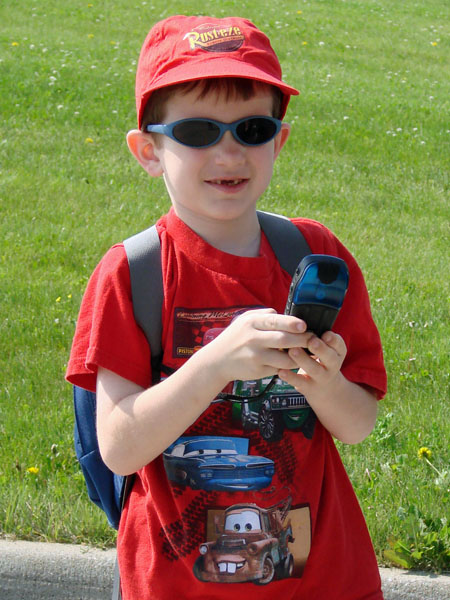 Off to find the cache…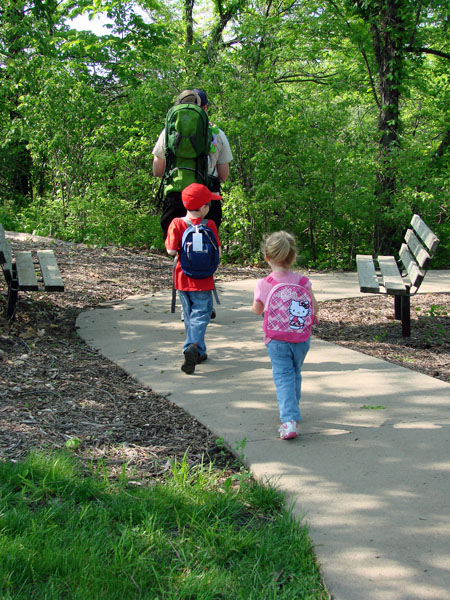 The kids, at a scenic spot…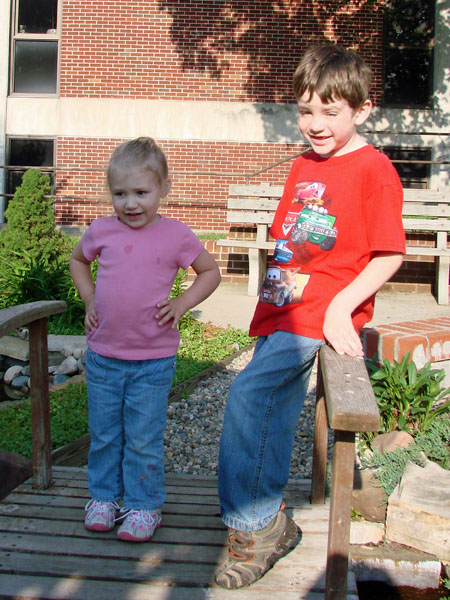 Jeffrey and Jenna, looking for the first cache this afternoon…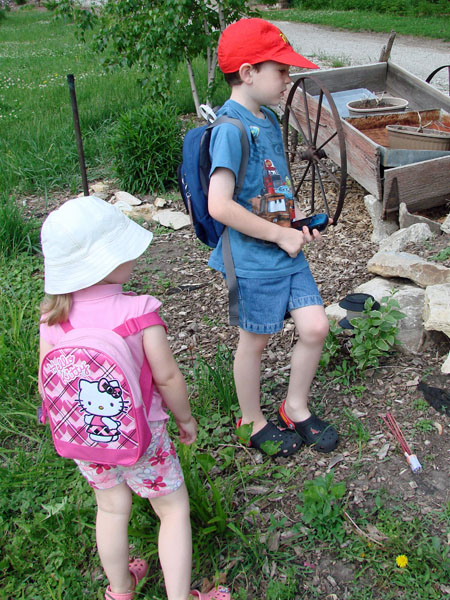 As you can see, there was a bit of a mixed reaction on this one (there was a nice surprise waiting with the cache!)…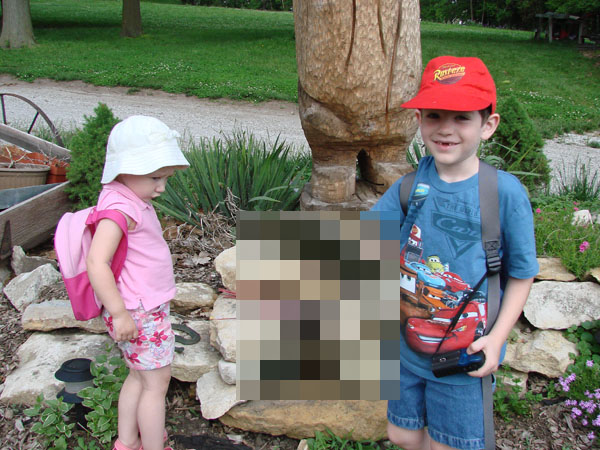 Over the past couple years, I've spent quite a bit of time learning about "Baptist Issues". I've spent way too much time reading blogs, internet forums, and other online Baptist publications, and have read quite a few books on a variety of topics ranging from church vision to small group development to missional living to apologetics.
In doing all of the above, I've come across some general facts and statistics that are simply frightening:
– Southern Baptist church membership growth is vastly outpaced by general population growth.
– The vast majority of "church growth" is either biological growth (children of church members getting saved) or transfer membership.
– Somewhere between 80 to 90 percent of teens never return to regular church attendance after they graduate school and move out of their youth group.
From these things, I conclude three things:
– Most churches are doing a miserable job or reaching unchurched people.
– Most churches really aren't even reaching their own kids.
– Something must change.
There's no beating around the bush here… these are serious problems that churches need to address, and quickly at that. We're losing a spiritual battle for the hearts and souls of our kids, our families, our friends, and our communities!
Something must change.
I write all of this in the context of self-examination. You see, I am the Sunday School director at my church (Missouri Valley Baptist), and in my two years serving in that position, I've done absolutely nothing to make a dent in these problems. While I could chalk that up to being rather new in the church and still feeling my way in regard to how we operate, I'm really without excuse. I've seen the problem… even in my own church… and done nothing.
Something must change.
But what?
Here's my thought as to one root cause… the discipleship void.
Do a bit of self-examination here, and tell me if your answers don't reflect a lack of discipleship.
– Describe the quality and frequency of your quiet times with God.
– When is the last time you prayed with your spouse? Your children?
– What kind of regular, focused efforts do you take to help your kids grow in Christ?
– What kind of intentional efforts do you make to share your faith with others?
– How do you go about "being" the church on a daily basis?
Here's the deal… when I see the unchurched continuing to be ignored by the church, I don't see a lack of pastoral concern for the matter so much as I do a lack of congregational concern rooted in stagnant faith. When I see teenagers graduating from high school and leaving the church behind for good, I don't see the youth minister at fault for lack of effort in helping to mold them, but the failure of moms and dads to step up to the plate and fulfill their God-given assignment to guide them in the ways of the Lord.
Worst of all? I see these traits in myself, and I simply don't want to live a life of dead faith anymore. And I certainly don't want to see my kids grow up only to bolt straight out the doors of the church, running from God, never to return.
I believe there is a huge opportunity here to make a difference in addressing these problems through family-focused faith. If we can help moms, dads, and kids to grow in their faith together, we can see miraculous things happen in their lives. As families begin to reflect God's design, and they begin to see what God can do in their lives, I believe we'll see the unchurched want to see what makes faith-focused families tick. I believe we'll start to see families begin to have a passion for sharing what God is doing in their lives, and I believe God will open doors for them to make a difference in the lives of others.
Pipe dream, God-given vision, or something in between?
Let's wait to see how God helps to develop this idea for discipleship before we make that call. This is something I feel pretty strongly about implementing in my church, and I'm definitely open to the advice and insights of others as I pray about this and formulate a discipleship plan.
Your challenge? Help me with a few ideas.
What should a family-focused discipleship strategy look like? How would you go about getting this off the ground? What kind of curriculum or other materials would you use? Am I totally missing the boat on this? If so, how?
You get the point? This is free game, so fire away with whatever thoughts and ideas you may have on this topic.
You've missed my Bible in a Year posts of late, haven't you?
There's a reason behind that, as you might imagine.
First… the burden of blogging every day was taking a pretty heavy toll on me. I wasn't finding joy in simply spending time in God's word, but instead finding it a chore to decide what I should write about each passage. And that's not to mention the time commitment that only could be met by staying up late after everyone else went to bed, or neglecting another form of worship of God I thoroughly enjoy… playing guitar.
Second? Of late, I've felt compelled to put together a formalized discipleship program for my church, and I'd really rather study that topic and put some thoughts together instead of blogging about a daily Bible reading.
Anyway, here's the deal… Bible in a Year has been sporadic for quite a while now. Expect that to continue for a while. But tomorrow night is where I want your focus (if you'd be so kind).
Tomorrow night, I have a post scheduled on the topic of discipleship that I want you to read, think about, pray about, dissect, comment upon, etc. In a nutshell, if you feel led to say something, I want it said. I think it will be worth your time!
See you back tomorrow night!
May 13th, 2008 |
Comments Off

| Posted in » Bible in a Year

Don't you just love Psalms? I look forward to Tuesdays every week…
Psalm 42:1-2 (NIV)
1As the deer pants for streams of water,
so my soul pants for you, O God.

2My soul thirsts for God, for the living God.
When can I go and meet with God?
When is the last time you were thirsty? I mean, REALLY thirsty? Remember what it felt like to finally get a drink? To have your thirst quenched?
When is the last time you thirsted for God? When you needed to connect with Him so badly it almost was physically painful?
If you haven't, is your lack of thirst for God arising from your thirst constantly being quenched by an ongoing close relationship with Him, or is it simply that you no longer care?
We decided to stop and do a bit of geocaching on the way back from Springfield today. If you're in the area and have some time, you ought to check out Poague Wildlife Area just west of Clinton… it's a very neat little spot. It was especially peaceful this afternoon, being a weekday!
Anyway, here's a few pictures from today…
This SimpleViewer gallery requires Macromedia Flash. Please open this post in your browser or get Macromedia Flash
here
.
This is a
WPSimpleViewerGallery
Back to the gospel of Mark today…
Mark 8:34-37 (NIV)
34Then he called the crowd to him along with his disciples and said: "If anyone would come after me, he must deny himself and take up his cross and follow me. 35For whoever wants to save his life will lose it, but whoever loses his life for me and for the gospel will save it. 36What good is it for a man to gain the whole world, yet forfeit his soul? 37Or what can a man give in exchange for his soul?
I don't know what you think, but it's my viewpoint that this is one of the most difficult teachings of Jesus. Deny myself. Take up my cross. Follow Jesus. Be willing to lose my life for Him. Forget about the things of the world, because they can stand in the way of eternity.
Basically… put Jesus first in all things.
It's anything but easy.
How do you, personally, implement these teachings? How do we go about developing a heart that's so devoted to Jesus that we're not only able, but willing to our own desires second? How do you keep yourself aware of where your heart truly lies, that you might refocus when you begin to stray from God's will to your own?
Tough questions arising from a difficult teaching!