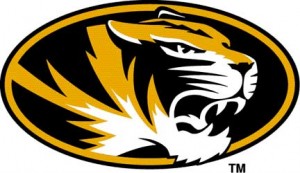 Anyone who knows me very well knows I love football. My Missouri Tigers have a chance to do something really special this year, and I'm pumped!
Anyway, I found myself twittering tonight's season-opener against 20th ranked Illinois. Thought I'd share, as it's kind of a neat way to look at a recap of the game…
6:58pm — M-I-Z-Z-O-U! M-I-Z-Z-O-U!
7:48pm — Mizzou offense hasn't missed a beat! First drive… touchdown! Now to see how good the D looks…
7:54pm — The D holds… good field position for Chase and the offense! Time to make it 14-0…
8:04pm — Mizzou turnover (protect the ball after the catch, guys!), the D holds… let's get a TD this time!
8:11pm — Good decision to go for it on 4th down… looked like the receiver got popped before the ball arrived to me! No call… D will hold!
8:13pm — no way he held on to get the foot down… under review as it should be!
8:28pm — well, a FG is better than nothing, I guess…
8:45pm — Alright… Mizzou better get their act together. Time for Maclin to take one to the house…
8:45pm — AND IT HAPPENS!!!!
8:45pm — YES!!!
8:47pm — Maclin is awesome!
9:28pm — Tigers finally got back in the groove… looking forward to the 2nd half. Hope the domination
continues…
9:56pm — What are the odds Maclin scores on this return?
9:56pm — Obviously none… they're scared to kick to him now…
10:03pm — Mizzou answers… another TD pass for Chase!
10:10pm — OH… so close! Maclin about scored on a return again! What an awesome talent…
10:11pm — Another TD from Chase! Man, I love Mizzou's offense!
10:16pm — another Illini TD… another chance for Maclin bring one back…
10:29pm — alright… enough of the horrible pass defense!
10:43pm — Now that's more like it. Interception for the Tigers D!
10:54pm — Looks like they're taking Maclin to the training room on a cart. NOT GOOD!
11:01pm — Sure would be nice to have a TD here and put this one away…
11:03pm — That'll end it… way to go DEFENSE! Touchdown!
11:19pm — It's official… Mizzou Tigers win!