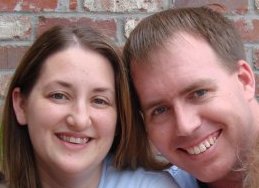 Ten years ago, on May 22, 1999, I woke up with a serious knot in my stomach. I was getting married that day to a beautiful young woman named Nancy Reedy. We'd met under such strange circumstances clear back in 1995… two very different people, living 300+ miles apart, living somewhat different lives… who would have thought not only that we'd meet, but that we would grow to become best friends, fall deeply in love with each other, and decide we were meant to spend our lives together?
It was a great wedding (I can tell you that even though I'd have to see the video again to remember all the details… nervousness does that to you!). We walked down the aisle that afternoon after saying "I do" with no idea what God had in front of us. But we knew we had each other, and knew that we'd be alright no matter what curves were thrown our way.
And we have been… for ten years now. Through difficult times with friends and family… through the joys of three children being given to us… through moves from Springfield to Sikeston and back, on to Osborn and finally St. Joseph. Through countless hours of laughter… more than a few arguments over silly things… and yes, countless hours of tears.
Life has had its ups and downs for sure.
Through these ten years, we've become more than just friends… more than just husband and wife… more than just a mom and a dad… we've become one, just as Scripture says. Inseparable. Incomplete without each other. Co-dependent. A team by every meaning of the word.
Are we perfect? Of course not. The works that God has begun in our lives are not yet complete. But we know He will see them through to the end.
And that means we've got MANY more years to laugh, love, work, play, hurt, cry, and… well… live and enjoy. Together.
Happy tenth anniversary, Nancy.
And, God? Thank you this life you've given us!