Archive for August, 2009
Yeah, I know. Sounds like a lot huh? But that's not what I meant. You see, I attended portions of the 121 Forum this weekend at Frederick Boulevard Baptist here in St. Joe, a conference examining what it means to take the 1st century message Christians have received from Jesus and deliver it in the 21st century using methodologies available to us today.
From the portions I was able to attend, at least, it was a great conference… my friend Micah Fries and the rest of the folks behind it did a great job with everything. Great worship team… incredible speakers… just well done all around. Very thought provoking and convicting, and I've got to share a few of the thoughts, notes, and quotes I took down while there.
We'll start with Bob Roberts, senior pastor of Northwood Church in Keller, Texas, and author of "Glocalization", (more at glocal.net):
We need to seriously rethink how we're doing missions. According to Bob, with the state of the world today, there really is no place that's wholly inaccessible and that is not open to missions. With today's communications, "the whole world is listening".
Bob is convinced that the Great Commission will be fulfilled in the next 10 years. If Coca-Cola can be known world-wide, why can't the gospel?
We need to learn to communicate in a way that keeps our message from getting lost. Christians are generally the biggest barrier to the gospel.
EVERY Christian is a missionary!
If we want to see the message of Christ spread, we've got to be willing to dialog with others. We can't preach the gospel at people and expect them to listen. We need to understand other faiths, and be able to explain ours "so the whole world gets it".
If the Great Commission is going to be fulfilled, it's going to look at lot different than anything we've ever seen.
Perhaps the most convicting thing Bob said, though?
What if God gaves us our jobs not just to make a living but to make a difference?
This goes to the heart of missional living… our faith should be at the forefront of everything we do. If the church is serious about seeing the world come to know Jesus, we've got to do a better job of discipling our members. It doesn't matter how great our missionaries and pastors are… the Great Commission is the job of every believer. As Bob said, "the church will follow the form of the disciples we're making".
Alvin Reid spoke this afternoon. Doc Reid teaches at Southeastern Baptist Theological Seminary, is an accomplished author, and blogs regularly at alvinreid.com.
"God is still moving… still changing the world." Are we ready and willing to be part of this?
The United States of America has the 4th largest contingent of people outside of a saving relationship with Jesus Christ on our planet. We don't have to go anywhere to make a difference for the Kingdom of God… we've just got to look around, open our eyes, and believe we are called to be missionaries to where we are.
"If the gospel came to America the way it came to Thessalonica, we would have an awakening." (Read 1 Thessalonians 1:5).
We've got to embrace missional living. We've got to be Biblically and doctrinally sound… we've got to embrace evangelism that both says and does… we've got to emphasize the whole life element of following Christ.
Really? Alvin built on what Bob Roberts shared in many ways regarding the missional nature of our calling. In reality, though, I think you can focus on one statement he made to get to the heart of things:
Jesus didn't die to make bad people good… He died to make dead people live!
You see, humanity is not fighting a battle of good and evil. We're not caught in a tug of war between God and Satan over the quality of life we're going to live. We're already lost… dead in our sin already. Hopeless.
Outside of a relationship with Christ, that is.
When we realize the amazing gift of life that God has given to those who believe… the sheer magnitude of His grace and mercy… perhaps then we who claim faith in Him will awake from our slumber and truly live.
We'll live for Him first and foremost, but also for our friends, our co-workers, our families. For all of those outside of a faith-based relationship with Christ. We've got to live in a way that makes a difference… not just to make the world a better place now for people we care about, but to rob hell of some of the countless souls we come into contact with each day to which it currently holds title.
That's what I'm left with as I consider 121. I profess faith in Christ. I believe that He alone saves, and that He now holds my life in His hands. I believe my eternal destination is secure.
But I don't truly live for Him on a consistent basis. In fact, I'm not sure I can even say I live for Him on a semi-regular basis. My faith never wavers… don't get me wrong. But my commitment does.
And that's got to change.
Once again, I'm amazed at how quickly my kiddos are growing up… yesterday Jenna started pre-kindergarten!
She was VERY excited to go… she LOVES school work! But she's also VERY shy… she'd told us she wasn't going to talk at all, and she would just point if she needed anything. So we weren't sure what to expect.
When we picked her up from school and took her to lunch to celebrate her big day? She talked for about an hour straight about her three hours of pre-k. Probably safe to say she enjoyed it…
Anyway, here's a few pictures from the big day!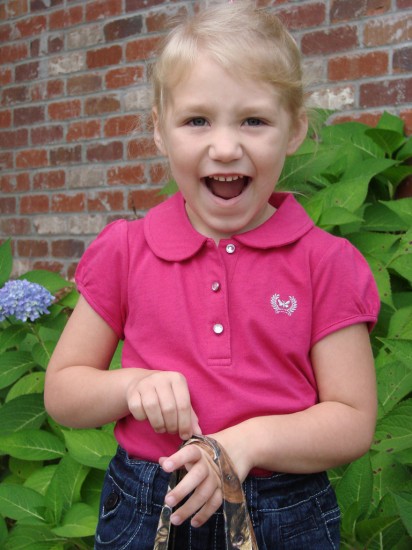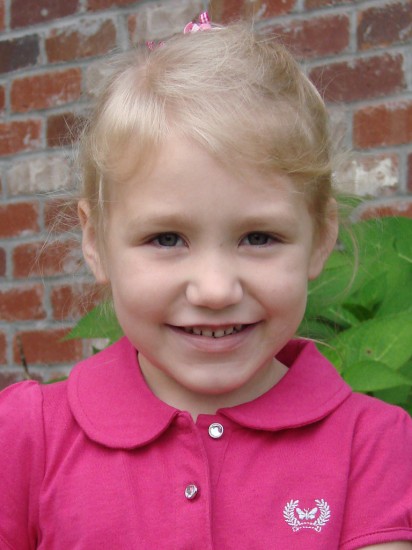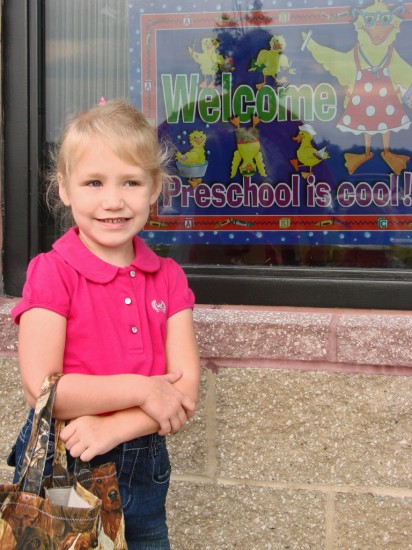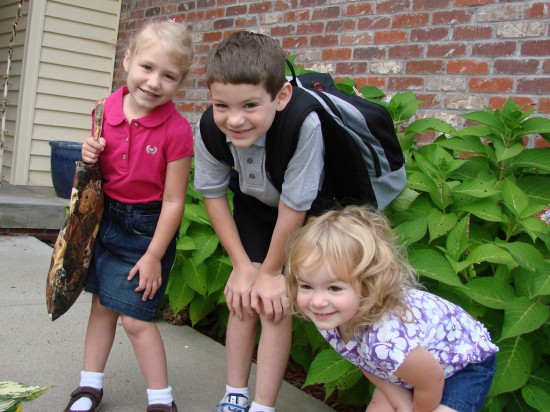 August 25th, 2009 |
Comments Off

| Posted in » My Life / Family, Pictures

Monday marked Jeffrey's first day of first grade at St. Joseph Christian. That's right… a new classroom and teacher… a real desk of his own… recess on the big playground…

Yeah, he's hit the big time.

Here's a few photos…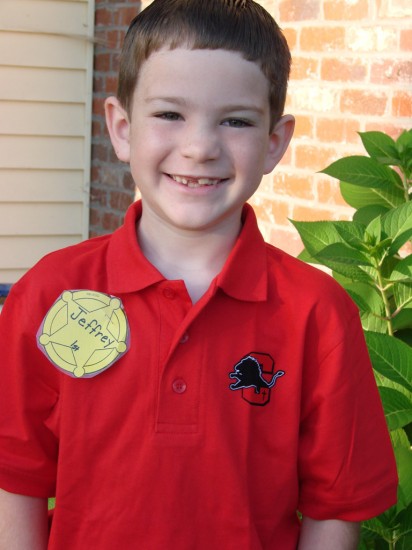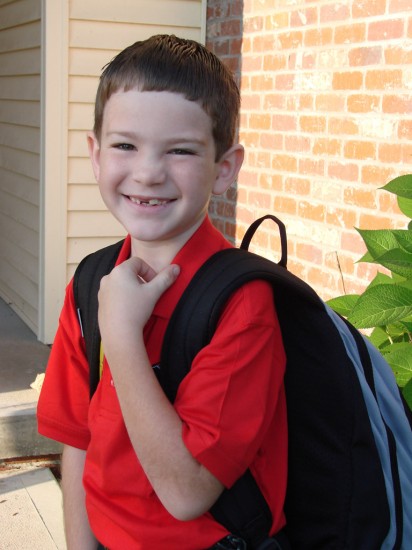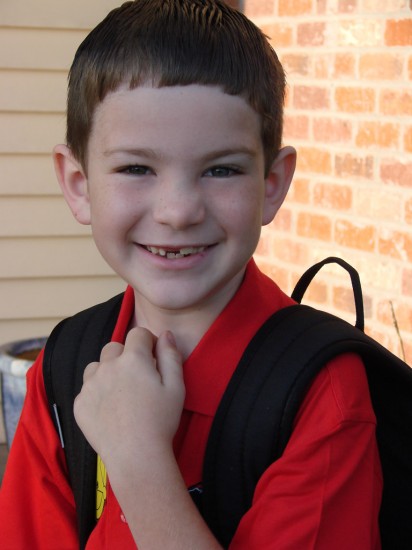 August 17th, 2009 |
Comments Off

| Posted in » My Life / Family, Pictures

Can it be possible that my son is actually seven years old now?

Wow.

We celebrated his birthday over the weekend, and he was obviously one happy kid…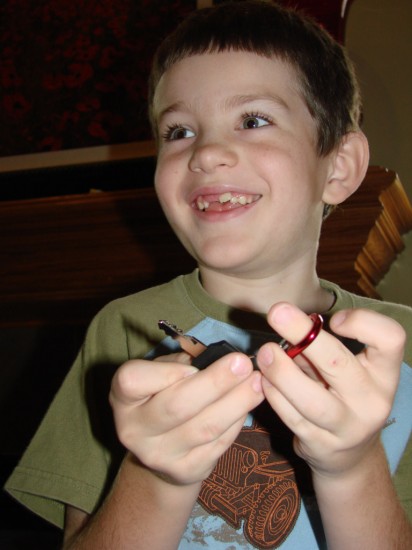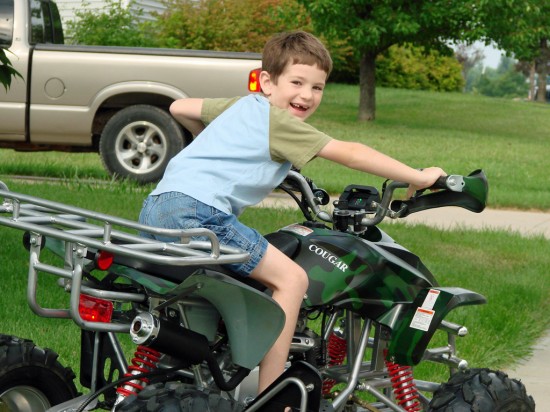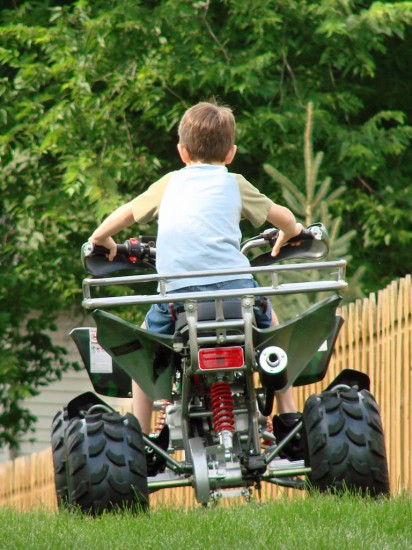 I'm glad you had a happy birthday, Jeffrey! You bring so much joy to our lives!