Archive for November, 2010
Ever reflect back on some of the great heroes of the Christian faith? Not necessarily the Biblical heroes (though they're great to study too)… but stories of people who have given everything for the God we love and serve? Maybe you're considering the patriarchs of the church. Maybe some of the great reformers of the church throughout history. Maybe you're thinking of martyrs and missionaries. I know you've got someone in mind.
Now think about their defining characteristics. Is fear one of them?
I hope not. Fear, though natural, cannot DEFINE the believer's life. It certainly cannot paralyze us from action.
Consider Scripture.
Matthew 8:23-27
23Then he got into the boat and his disciples followed him. 24Without warning, a furious storm came up on the lake, so that the waves swept over the boat. But Jesus was sleeping. 25The disciples went and woke him, saying, "Lord, save us! We're going to drown!"

26He replied, "You of little faith, why are you so afraid?" Then he got up and rebuked the winds and the waves, and it was completely calm.

27The men were amazed and asked, "What kind of man is this? Even the winds and the waves obey him!"
Think about this situation. The disciples are with Jesus, and have been for some time. They've witnessed Him doing amazing things… healing the sick, casting out demons, raising the dead… miracles of all kinds. They've seen Him preach to thousands, and confront the misguided religious leaders of the day. They should clearly have a sense that this Jesus isn't any kind of ordinary man.
So they're in a boat, crossing a lake in the middle of the night, and a storm comes upon them. The waves are high… the boat is rocking… they're getting cold, wet… and are terrified. But Jesus? Yeah… He's sleeping.
The disciples are wailing and crying out. "Lord, save us!" "Help us Jesus!" "We're going to drown!" "I don't want to die!"
Yep. They wake Jesus from His sleep. He rubs His eyes, looks around at the commotion… and shakes His head in disappointment.
"Oh you of little faith. Why are you so afraid?"
He stands up, rebukes the waves… and everything is calm again. I picture Him lying back down and going right back to sleep.
You see, Jesus isn't surprised by the storm. He's not worried about it… in fact, He's not concerned at all. His power extends beyond all this. And He expects His disciples to know this… not just as fact, but as heart-comforting truth.
Think about this in your life. Are you paralyzed by fear? Has God allowed some sort of storm to enter your life? How have you responded? Has God given you a great task of some sort? Are you hesitant to even start, scared about the difficulty that you might encounter along the way?
Think about things for a second. Have you committed and entrusted your life to Christ? If so, God is not just for you… He's with you.
You of little faith… why fear?
November 22nd, 2010 |
Comments Off

| Posted in » My Life / Family, Pictures

If you know my son at all, it's pretty clear to you that there's one real love in his life right now… basically anything with four wheels. Pretty high on that list is riding his ATV… off-roading, not necessarily racing (thankfully!).

Sadly, there's just not much opportunity on a day-to-day basis for Jeffrey to ride. Living in town does that. While I'd love to turn him lose to tear through the neighbors' yards on his ATV (I certainly wouldn't want him to tear up mine, now, would I?), that probably wouldn't do much for neighborly relations. Thankfully, though, my folks do have quite a bit of space for him to ride, and we visit pretty frequently, so we've recently left the ATV there for him to ride when we visit. Aside from just being at Grandma and Grandpa's, this always adds an extra measure of smile to his face when we visit… after all, it's not just Grandma and Grandpa time, it's ATV time.

It's great to be able to enable him do what he loves.

This weekend was even better though. My dad found a great deal on a used ATV this week, and bought it for "the family". Obviously, that raised the joy level for Jeffrey even further… now Grandpa and Dad were able to ride with him and share in what he loves. It was an awesome time… we drove around the property for hours, even made a couple trails through the brush around the pond (allowing Jeffrey to more truly do some off-roading). His smiles were uncontainable and contagious. I'm still grinning about it as I write this.

I'm telling you, dads… there's nothing better than getting into your kid's world and doing what he loves. If you don't do something with your kids regularly, straighten up your act and figure out how to get into their world. You've got limited time with them, so make the most of it.

So here's a few photos of Jeffrey and I doing just that… making the most of time together, doing what he loves. If these aren't encouragement for you to get off your butt and get into your kids' worlds… I don't know what would be.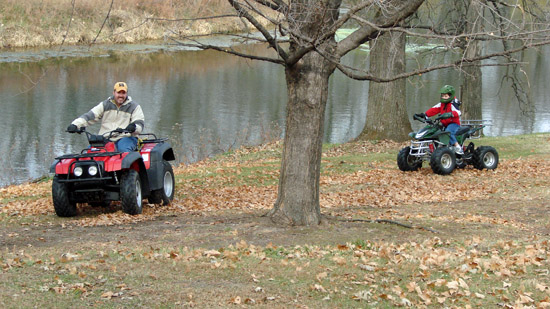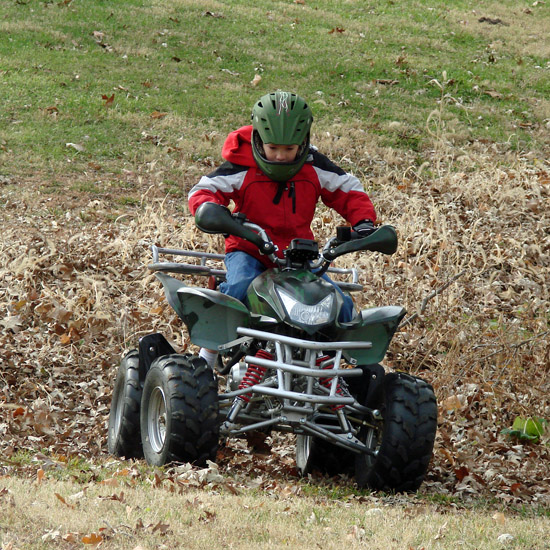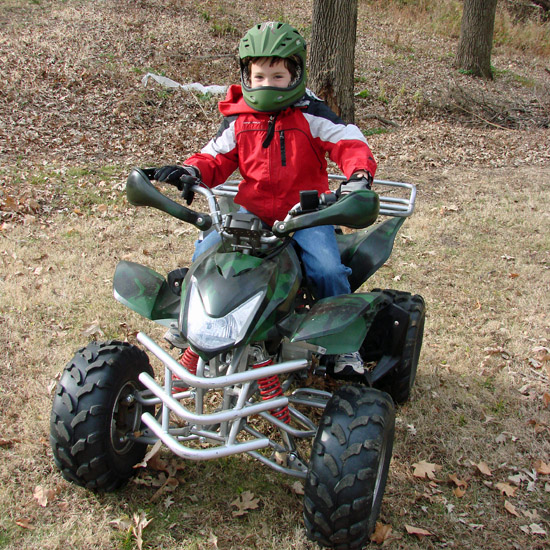 If we want to be people of great faith who can do great things as a result of our relationship with God, we've got to learn to trust Him completely. Worry simply can't be part of our makeup… it demonstrates lack of faith in God's provision.
Check out what Jesus had to say about the matter.
Matthew 6:25-34
25Therefore I tell you, do not worry about your life, what you will eat or drink; or about your body, what you will wear. Is not life more important than food, and the body more important than clothes? 26Look at the birds of the air; they do not sow or reap or store away in barns, and yet your heavenly Father feeds them. Are you not much more valuable than they? 27Who of you by worrying can add a single hour to his life?

28And why do you worry about clothes? See how the lilies of the field grow. They do not labor or spin. 29Yet I tell you that not even Solomon in all his splendor was dressed like one of these. 30If that is how God clothes the grass of the field, which is here today and tomorrow is thrown into the fire, will he not much more clothe you, O you of little faith? 31So do not worry, saying, 'What shall we eat?' or 'What shall we drink?' or 'What shall we wear?' 32For the pagans run after all these things, and your heavenly Father knows that you need them. 33But seek first his kingdom and his righteousness, and all these things will be given to you as well. 34Therefore do not worry about tomorrow, for tomorrow will worry about itself. Each day has enough trouble of its own.
Shouldn't this Scripture be an encouragement to us? After all, humanity… you and me… we're the objects of God's love. If we have a right relationship with Him, which comes at the great price as the crucifixion of His SON… how can we doubt that His love and care is sufficient to meet the bare necessities we have for life? And further, if we believe God has a purpose for which He wants to use us… how can have such trust without understanding that He'll meet the needs we have to fulfill those purposes?
You of little faith… why worry?
The question begs of us some serious self-examination.
As I've spent the past three months reading and teaching through the book of Matthew with my family, we've spent a LOT of time talking about faith. We've discussed what it means to have faith. We've discussed how God can work in our lives when we do have faith. We've discussed how faith in Christ is central to our salvation. We've discussed how faith is central to the miracles Jesus does in the lives of His people. We've discussed what our lives should look like when faith in Christ is central in our lives.
Last night, though, I was pondering God-sized dreams. As I thought about that concept, it occurred to me that it's quite likely the reason most of us don't have God-sized dreams comes back to this central issue… faith (or rather, lack thereof). A common phrase from Scripture came to mind: "You of little faith."
It's interesting how often Jesus used that phrase when teaching His disciples. And it's amazing how many areas of our lives it applies to. When we dare to examine Scripture, will we find that we too would be told, "You of little faith…"?
If you're interested in taking that trip with me, check back here over the next week or so. If we want to be used by God, perhaps in ways we can't begin to imagine, "You of little faith" had better not apply consistently in our lives.
Quick thought that's been on my mind tonight…
If we're going to pray for God to move and work in and through our lives, shouldn't we have God-sized dreams?
Seriously. How often do we pray and ask God to use us, with the sole intention of be willing only to take on little tasks for Him? Why are we so hesitant… perhaps so filled with doubt about His ability to work through us… that we're unwilling to take on big things for God?
Oh we of little faith.