Archive for November, 2011
Come.
Several phrases enter my mind when I think of the word, "come". Strangely, they all revolve around songs.
(Yes, that's how my mind works. Songs. Well, that and movie quotes.)
Come, now is the time to worship!
Come, now is the time to give your heart.
Come, just as you are to worship!
Come, just as you are before your God…
Come!
All who are thirsty
And all who are weak
Come to the fountain
Dip your heart in the stream of life.

Let the pain and the sorrow
Be washed away
In the waves of His mercy
As deep cries out to deep.

We sing

Come, Lord Jesus, come.
Come, Lord Jesus, come.
Great worship songs, both.
But that's not all of the lyrics running around in my head.
O come, all ye faithful,
Joyful and triumphant.
O come ye, O come ye to Bethlehem!

Come and behold Him,
Born the King of Angels!

O come, let us adore Him.
O come, let us adore Him.
O come, let us adore Him,
Christ the Lord!
What did you expect? Christmas season is here. And I love Christmas music. Just not whiny hick country versions of Christmas music. (Ask Nancy about that.)
One more song running through my head, and it's gonna strike you as odd.
Trust me. I'm not sure why it's in my head either. But it is.
Here's a version on YouTube. You've gotta hear this one, not just read the lyrics.
Yes, that's "Come and Go with Me", performed by the Del-Vikings, 1957.
No, I'm not that old. But I do remember hearing it in "Stand by Me". (Confession… even had the soundtrack as a kid.)
Come and go with me.
You see, of all the songs in my head, a 1957 Doo-Wop classic encapsulates the essence of "come".
Come is an invitation. It's personal. It's, "Hey, check this out." It's, "Hey, spend some time with me."
It's what Jesus does. He bids us, "Come."
Jesus never says, "Do this, and I'll love you." Never once, "Give this money, and I'll accept you." There's never a, "Straighten up your act and I might associate with you."
He invites all of us to "Come."
"Follow me." "Trust me." "Believe in me." "Do as I do." "Live as I live."
Come.
And be with me.
Come.
Won't you?
——————————————————
NOTE: This the second "blog carnival" I've participated in, where everyone writes about the same word (obviously this time it was "come"). Check out some of the other posts linked here to read more thoughts triggered by authors writing about this word. Thanks to Peter Pollock for putting this together.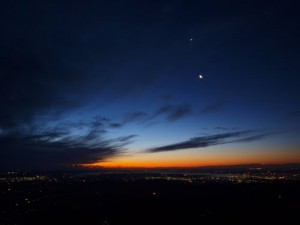 Every now and then we're granted a dose of perspective.
Mine came this morning as I woke up. Half-asleep, without my glasses or contacts, as I opened my eyes I could see a single point of light peeking between the curtains, shining through the dark morning sky. A single blurry star.
I don't know why I happened to focus on it this morning, but for some reason as I lay there in bed focusing on that blurry point of light, my mind wandered to the sheer size of the star from which that light was shining. I was amazed in my half-awake state that something perhaps a hundred thousand miles or more in diameter could appear to me as a point of light in the sky, infinitesimally small.
I couldn't help but wonder how any of us can wake up and think only of our life and our problems. This universe that God has created is SO much bigger than we can imagine… certainly MUCH larger than my little world and my little problems.
And to think that God took such tremendous care and effort to plan every detail. Even the details of stars billions of miles away from us that we can only see as tiny points of light.
Perspective.
And the God that takes such care with the details of things we can barely see? He's also that God that takes the same level of care and interest in every detail of our lives.
Amazing.
November 28th, 2011 |
Comments Off

| Posted in » My Life / Family

Friday evening we were in Springfield, having dinner with the kiddos at a local restaurant. It had been a long day for everyone.

Nancy had been fighting the Black Friday crowds with her sister. I think she had put in over 11 hours worth of shopping… a feat which not only would have worn me out, but probably killed me.

I had been hanging out with the kiddos all day. We'd had breakfast at the hotel. Spent about an hour in the pool. Lunch at a location not called McDonald's and that didn't have a play place (yes, I was feeling brave). We'd even went to see the Smurfs (as a result, I may never get that smurfing, er, stinking tune out of my head).

Needless to say we were a bit worn out. Kiddos too.

So I should have seen it coming.

Allison had wanted steak bites for dinner. Nothing wrong with that… all of my kids like steak (yes, they have good taste). She told the waiter what she wanted, and then he asked how we wanted it prepared. I told him medium.

All good. Until the food came.

The rest of us ate. Allison did not. She'd had maybe one bite.

I figured she was just tired, but asked her what was wrong and why she wasn't eating. I fully expected fussing and fighting. To my surprise, she replied.

"It's too medium!"

I grabbed a knife and fork, and started cutting the steak bites into even smaller bites. Every one of them.

I poked a small bite on the end of her fork and handed it to her.

"There you go, sweetie. Now they're small bites."

She ate every piece.

I love kid logic.

And I love it even more when I'm actually smart enough to understand it.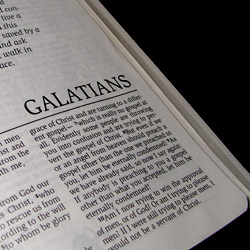 I've been teaching through the book of Galatians in our young adult Sunday School class at Missouri Valley recently. It's a powerful book of Scripture addressing the freedom we have in Christ.
Here's the background:
The churches in Galatia are in turmoil. Big-time.
There's stress between Jewish believers and Gentile believers. The history between these two groups is not pretty. You think racism in the South was bad? This is nothing.
The Jewish people were God's chosen group, and they knew it. They've lived as God's people for over a thousand years. Trace their lineage back to Abraham. Were delivered from Egypt by Moses. Were given the commandments and the law. Were made into a mighty nation, and led by powerful kings. When they strayed, prophets were sent over and over by God to bring them back to Him.
The Gentiles? Well, they were the rejects… those outside of the Jewish lineage. Ostensibly rejected by God. And looked on as lower than dogs to the Jews. To associate with them was not only socially unacceptable, but made them unclean… unfit for worship of God.
Yet people from both groups are coming to faith in Christ. Becoming brothers and sisters, joint heirs of God's Kingdom through a mutual faith.
You think your family has tension? Try uniting these two groups.
So here's what's happening in the church: Jewish believers, who have followed God's commands for all of their lives, are stressed that these new Gentile believers have not. And you guessed it… circumcision becomes the issue of the day. The Jewish men were circumcized… the Gentiles were not.
And this was a BIG DEAL to the Jews.
Why, you ask?
Because circumcision was God's sign of His covenant relationship with the Jews. This indicated that they were indeed God's chosen people. For whatever reasons, the Jews believed it necessary for the Gentiles to undergo this procedure as well, submitting to the commands of the law given them over a thousand years previous.
If you're a Gentile man, this is a BIG DEAL.
So there's a major rift. And we think that OUR church feuds can get heated.
Enter Paul. He's visited these churches. Preached the gospel to them. Lead many of them to Christ, helping birth these very churches.
He's got to address this rift and heal the church.
The result? The book we know as Galatians. A POWERFUL treatise on justification by faith in Christ through the grace of God alone… salvation by grace, not works.
Lots of meat to sort through. Be sure to check back for subsequent posts as I walk through this book here at Toward the Goal. If you've got thoughts and comments, by all means, share.
I'd love to hear your thoughts.
November 25th, 2011 |
Comments Off

| Posted in » My Life / Family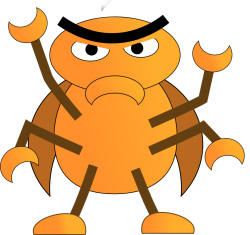 I've been bitten by something. No, I don't have an itchy welt anywhere. I'm not swelling up or needing to see a doctor.
It's the blogging bug.
I don't know what triggered it. I'm not sure it really matters.
But it's there again.
The last two or three years? Hardly. But it's back now. So you'll probably see a LOT more writings from me online again, both here, and over at our Just 1 Ministries site.
I have no illusions that most of what I share is of life-changing impact to the maybe three people who still read this site from time to time. I'd like to think that it makes a difference to you somehow, but looking back (and forward for that matter), I didn't start this site over six years ago with a marketing plan, a target audience, or anything of the like… I wrote because I felt God laying certain things on my heart as I studied His word, and wanted to spray them out there on the web for whomever He decided to send my way.
So that's a bit of what's happening again.
Moreso, though, I feel I've got something to say again. With Just 1, it's obvious… Nancy and I have 15 orphans who we're trying to help. And that's worth writing about if ever there were anything.
Here?
I've got Scripture passages I'd like to write about. Three awesome kids that I know the grandparents and aunts would like to read about. Politics that I could rant about for days (okay, so maybe I SHOULDN'T write about that). Sports.
Who knows what I'll find to write about from one day to the next.
Whatever the case, I feel like the words are flowing readily again. And I feel like they need an outlet.
Might as well make use of this place, huh?
[NOTE: This is a partial repost of an article I shared over at our Just 1 Ministries site. For the complete article, please check out the original here.]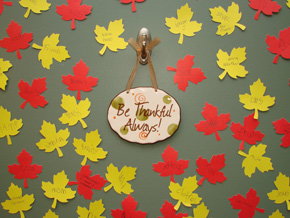 In case you've somehow missed it, Thanksgiving is tomorrow.
For most Americans, that means gathering with family, enjoying some good conversation, having a lot of laughs, eating ourselves into a turkey-induced coma, ultimately crashing in the living room around the television watching football.
It's a good time, no doubt.
But it's called "Thanksgiving" for a reason… it's a season where we really should take time to give thanks to the one who has given us so much.
Around our house, we start observing Thanksgiving around the 1st of November. That picture you see above? It's central to our celebration of Thanksgiving.
Years ago, Nancy had an awesome idea. We'd have a "wall of Thanksgiving". Each night at dinner, we'd spend time thinking about what we're thankful for, write it on a "leaf", and stick it to the wall. As the days go on, no repetitions are allowed. It makes all of us truly think about all of the things we have to be thankful for.
Family, friends, our home. Smiles, laughter, hugs. God, our church, the Bible. Football, jeeps, kittens. iPhones, internet, music. Clothes, school, television. Grandmas, Grandpas, our puppy.
The list goes on and on and on.
[For more of this article, check out the full version here.]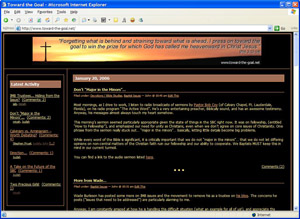 As I was looking over the site today, I just noticed something… my first posts date back to November 2005. Over six years ago.
Crazy stuff. Hard to believe I've been blogging that long. Granted, there have been a couple long periods without posts, and some serious dry spells of months. Even a couple shifts in the direction of the blog.
But six years. How is that possible?
Six years ago, I had just discovered a cool little country church that rocked my world (still there!). Six years ago, I had a three year old and a little girl who wasn't quite one yet. Six years ago, I wasn't yet in my thirties. Six years ago, I'm reasonably certain I had hair covering my entire head. Six years ago… well, I have trouble remembering six years ago.
Interestingly, six years ago I was actually over two years into my blogging experience. Two years earlier, when my oldest child was just barely one, Toward the Goal actually began. Back then, it was simply a devotional blog, on a free Christian blog webhost. That host was hacked at one point, so it disappeared. I'm not even sure the original webhost is still around.
Is there a point to this? Not really.
Just that six years is a long time. Yet somehow it's passed like a flash.
Psalm 39:5
5You have made my days a mere handbreadth;
the span of my years is as nothing before you.
Each man's life is but a breath.
So what are you going to do with this God-breathed life?
It will be over before you know it.
One thing I do know… I want to make every moment of mine count. How about you?