I find it a bit ironic that my pastor preached this morning about the differences between men and women.
Why? This afternoon, we got a first-hand example.
Background… My son received some tools for Christmas. He's just NINE years old, so maybe that's weird, but it's something he was absolutely thrilled about. And we've seen that he certainly has no aversion to using them (case in point here).
This afternoon, he showed us yet again that this is the case. This time, though, he didn't stop with just HIS tools. He managed to sneak into my shop which I was napping (recovering from a migraine), and he used some of my POWER TOOLS.
Here's the end result: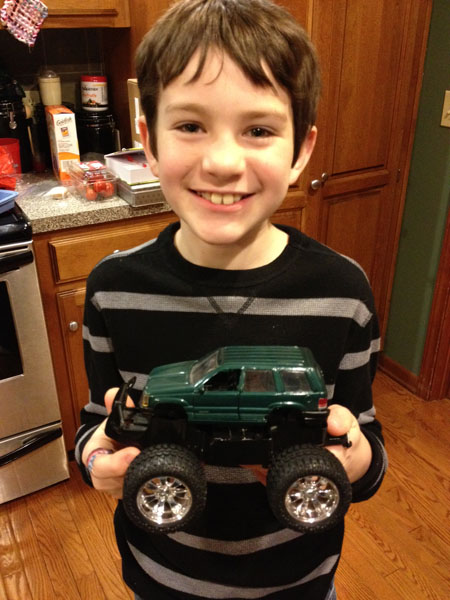 You see, Jeffrey just wanted to customize an old remote control car he found yesterday. He had another vehicle (a green Jeep Cherokee) that didn't work very well anymore, and he thought it would be cool to put that body on the RC car.
Taking the body off was no issue at all. A couple screws, and mission complete.
The problem lay in attaching the new body to the RC frame. Short of a couple screws and holes, or tape (which he's QUITE fond of, by the way… I need stock in 3M!), it just wasn't gonna work.
So Jeffrey simply did what any industrious nine year old would do… sneak into Dad's shop, find the drill and appropriate drill bits, find a couple screws that would work, and go to town.
Before I was awake and Nancy realized what he was up to, he was already done.
Well… Nancy was justifiably freaked out. POWER TOOLS! A NINE YEAR OLD! SERIOUSLY?!?**
My response was quite a bit different:
An ear to ear smile. "Nice work buddy! Next time, though, let's have a bit of adult supervision, okay?"
My son was beaming (of course, you see that above). He still was when I tucked him into bed, actually. The jeep is parked on his headboard.
I don't know. I guess he's developing his inner Phineas and Ferb.
Which is SO much better than frying his brain with video games.
I'll take it.
———————————————
**Just to be clear, Nancy is 100% supportive of Jeffrey's creative construction urges… she was just concerned about safety. Obviously, I am too. We don't expect another surprise like this again. Jeffrey's future construction projects using power tools WILL be supervised!
Tags: construction, kids, parenting, power tools