Archive for the 'Christian Living' Category
I'm not sure I know exactly how to put my thoughts into words tonight, but I've been thinking. And I've got more questions than answers as a result. So, for all three of you that may actually still read this site, bear with me as I pour out my brain and heart here through this poor medium of blogging. This may be tough to follow. But I guess that's alright.
If you're a close friend of mine, you'll know that the last four months have been rough for us. We've been dealing with some family troubles centered around the dreaded c-word: cancer. I won't go into detail more than to say it's a close family member out of respect for that person's privacy, but suffice it to say that the news we received was not good. Not just any kind of c-word… terminal c-word.
We've been riding a roller-coaster of emotions. We've travelled more in the past four months than we perhaps even over the past four years (or maybe it just seems that way). Nancy and I have had to go separate ways far too often, and split the family more weekends than not to try to keep juggling all of the various balls we find ourselves tasked with keeping airborne. Our church attendance has been a joke. Stress levels way too high. And our faith… challenged.
********************************
Throughout this same general time period, there have been some horrific news stories. Sandy Hook. The Boston bombings. West, Texas. Tragedies, all.
And there has been societal change, political turmoil.
I've watched "the church" respond to all of this in interesting ways. Anger. Outrage. Political maneuvering. Calls for organization. Calls for prayer. Calls for activism. Prayer.
Rarely with peace.
********************************
I don't know that the two are related in any way, to be honest. But there is a common theme running through my head… a difficult thought.
In times of troubles, Christians are faced with tough questions.
Where is God during _______?
Why didn't He do something?
Why would He allow _______?
Is God hearing my prayers?
Why isn't He listening?
Are you even real?
Do you even care?
********************************
These questions have become very real to me through our times of trouble. I've read of Job in the Old Testament, and how God allowed his faith to be tested… how He gave Job over to Satan to do anything except take his life. I've wondered if God does the same nowadays… "Have you considered my servant _______?"
Has my name, Nancy's, or others we love deeply been in that place?
When trouble seems rampant, and God seems distant? As if He's not listening?
Why? Did we do something? Do we deserve this somehow?
********************************
I think Christians as a whole react the same way during times of trouble; even societal troubles.
We wonder if God cares. "Can't you see what's happening God?" "When will you do something?"
We look at ourselves, collectively. Where have we failed? What didn't we do to prevent this? What if we only _______? Would God listen then? Could we change things?
********************************
I know this is disjointed. The point I'm trying to get to is that I see a parallel. What I see in our lives during our time of trial is not that terribly different from what I see in "the church" when everything seems to be going wrong with the world.
A test of faith. A lack of peace. Perhaps, a lack of trust.
Maybe it's best summarized by questions (after all, that's mostly what I seem to have right now).
Is Jesus really enough?
What if turning to Jesus for answers is the only answer?
What if letting our questions go is His only response… just to trust Him?
Will we really be satisfied with Jesus alone?
Or must we have Jesus + _______?
Sure, we all know the good "Christian" answer. But do we truly believe what we profess? What we sing about on Sundays? What we tell others? What we preach to our kids? What we read in our Christian books, or hear about on our Christian radio stations?
Is Jesus REALLY enough?
Perhaps that's the question God has been trying to get us to consider all along.
Last Friday, we were all hurting. Tragedy had struck Sandy Point Elementary, as a madman entered and took the lives of 26 people, including 20 kids.
All of us were struggling with questions, and searching for answers, trying to process this unthinkably evil act.
Why?
For those of faith (and perhaps even those not), there's a big gaping question: where was God during this?
I can't pretend to have all the answers. We'll never know why God allowed this, but the fact remains… God is STILL sovereign, STILL in control, and NOTHING escapes his foresight and power.
Sadly, many Christians don't seem to get this. Many rant about how we need prayer back in schools, how we've kicked God out of so much of public life, that it's no wonder stuff like this happens when God isn't present.
SUCH a short-sighted view. Have we forgotten everything about God?
This article by David Price was brought to my attention today on just this topic. It may not provide answers for everything, but it certainly is worth reading. Especially for those well-meaning Christians who say things out of frustration that simply make no theological sense.
Think before you rant next time, Christians.
Please?
So… two weeks ago I was pretty bummed out following what I thought would be a routine follow-up visit about my troubled ears. Unpleasant possibilities loomed, and since then, I've pretty much been mentally preparing for the worst… cholesteatoma's return.
Today? It's official. I'm no longer just a survivor of cholesteatoma. I'm a patient that's got it again… in my "good" ear. Surgery is coming up in two weeks.
Having been through this before, I know it's certainly not the end of the world. For those of you reading this who are going through the same (yes, I know Google brings you here), let this be an encouragement… the surgery can be done on an outpatient basis (no unpleasant hospital stays), the recovery is relatively quick (less than a week in most cases), and the outcome generally is very positive (especially if caught soon). Odds are you WILL hear again, though you may need hearing aids for things to be "normal" again.
Is that really such a big deal in the grand scheme of things?
Truly, it's not. But the emotions that run with this can be VERY hard. And that's okay.
Now, I'm not here to present some sort of grand 12-step program to coping with cholesteatoma. I don't have a magic wand to wave and make it all go away. And I don't have some trick you can play on yourself to make coping easy.
But I can tell you what helps me… my relationship with the Savior, Jesus.
In Him, I know that a power far greater than me is in control.
In Him, I know that there is purpose for my troubles.
In Him, I know there's a far better future ahead.
In Him, I know that I'm not alone.
If you're struggling just to cope (with ANYTHING, not just cholesteatoma), I pray you'd consider Christ. He's there, willing and able to restore you to a right relationship with God the Father… willing and able to wipe away every tear, fear, and uncertainty… willing and able to provide hope and a future.
Maybe He's calling to you in your time of trouble?
You see, as much as I'd like to, I can't give you hope in your struggles. I'll be happy to answer any questions you have and maybe put to rest some doubts and fears. But no number of eloquent words I can come up with will truly bring you comfort or help you cope. That's an issue FAR above my pay grade, and all I can do is point you in the right direction.
—————————————————-
For more readings on my battle with cholesteatoma, check out these posts:
Over the last three years, this blog has received quite a bit of web traffic on a topic I'd really rather not know much about… cholesteatoma. For those of you who have no idea what that word even means, let me fill you in.
According to wikipedia, cholesteatoma is:
a destructive and expanding growth consisting of keratinizing squamous epithelium in the middle ear and/or mastoid process.
I'm sure that really helped.
Basically, a cholesteatoma is a tumor that grows inside your ears. It's not cancerous, but can be life-threatening if untreated. Basically, it's a tumorous skin growth. As it grows, it funnels infection to the middle ear. Over time, the infections degrade the bones of the middle ear and adversely affect hearing. The tumor itself can spread throughout the mastoid bone (located behind the ear)… if left untreated, the infection can actually spread through the thin lining of bone between the middle ear and into the brain.
So yes. It can be a big deal.
In my case, we've been fortunate. We discovered my first cholesteatoma in 2008, in my left ear. I'd had a major ear infection, ruptured the ear drum, and after a few weeks of medical treatments, discovered the cholesteatoma. Two surgeries later, I was cholesteatoma free, but left with hearing loss as a result.
I should be thankful it's just that.
Today, though… I'm not. I'm having a really rough day. You see, I've been battling chronic ear infections in my right ear over the past two years. As part of a routine follow-up visit regarding my original cholesteatoma, I had my doctor look at the issue again. My thought? Just a little hearing loss… wasn't even thinking about anything more.
His response? Well, after a thorough examination, it included words that shook up my world again… "indicative of cholesteatoma".
Recap? Left ear… cholesteatoma in 2008. Surgically repaired to a "new normal" in 2009. Right ear… potential cholesteatoma.
Simply put, this sucks.
I know it's POTENTIAL cholesteatoma. And having been through this once, I know it's not the end of the world. But my mind has been racing nonetheless, and my emotions a bit of a mess today. The idea that I may no longer have a good ear. The thought of degraded hearing in both ears. The likelihood that hearing aids will be my only hope of "normal" hearing at some point.
It's a crushing blow in a lot of ways. Even knowing nothing has been confirmed, and that cholesteatoma may not really be a reality for me again.
Nevertheless, my normal optimism has been gone today. I'm trying to prepare myself for the worst case. I'm trying to come to terms with the possibilities. I'm trying to swallow (once again), a simple fact of life.
… that we don't always get what we want.
As a follower of Christ, I know that fact. Life isn't about us. We don't always get our way. God doesn't give us life, with all of its ups and downs, for OUR benefit.
We exist for His purposes and pleasure, and our lives should be lived to bring glory to Him.
And I'm okay with that, except when I'm not (how's that for deep).
I'm human. Full of emotions. Hurts. Pains. Questions. Selfishness. My own desires and wants and wishes.
I question why. I struggle with the possibilities. I wonder if it's all really going to be alright.
Even though I know (and believe) better.
The "Christian" response to times like this is to quote Scripture. Real comforting ones like Romans 8:28:
And we know that in all things God works for the good of those who love him, who have been called according to his purpose.
And then we beat ourselves up because we DON'T feel at peace with things.
I guess my point in writing all of this is to let you, who may be finding your way to my site because you're dealing with cholesteatoma, or you, who may be struggling mightily with something else entirely… it's to let you know this:
EVERY Christian struggles with worries, fears, and doubts. If any Christian you know tells you otherwise, they're flat out lying.
And know that this fact does NOT negate the truth of Scripture.
Our doubts, worries, and fears do NOT change the fact that God is in complete control.
Our doubts, worries, and fears do NOT change the fact of His love for us.
Our doubts, worries, and fears do NOT change the fact that He is still working for our good.
God is STILL there.
So today, if you're struggling… quit beating yourself up.
And today, if someone comes to you with their hurts and pains… don't be trite with your responses.
In both cases, the goal is a Scriptural one… to cast your anxieties upon Christ, because He cares for you. There's no one else that can truly bring us peace.
—————————————————-
For more readings on my battle with cholesteatoma, check out these posts:
In case it wasn't clear to you already, I'm a child of the 80′s.
The first president I vividly remember was Ronald Reagan. I remember his election in 1980, crazy as that may seem (I was only four at the time, but for some reason I remember my mom and dad watching the election returns come in on TV). I remember his re-election campaign in 1984… how my family supported him 100% (and as such, I did), but one of my closest friends thought Mondale / Ferraro was a MUCH better ticket. The landslide win. At eight years old, you're just starting to get a handle on this part of the world.
I remember his support of the space program. NASA was in its prime… every kid dreamed of becoming an astronaut. The Challenger disaster turned our worlds upside down.
Then there was the Soviet Union… our rival superpower. We worried about nuclear threats and World War III. Were taught the phrase, "better dead than red". The "Commies" always seemed to be the enemy in movies and games. Remember Red Dawn?
But change was coming. Boy was it ever.
Reagan and Gorbachev developed a friendship. The two rival leaders genuinely seemed to enjoy each other, and the winds of change began to blow. The Soviet Union started to seem less scary; less of a threat. Nuclear disarmament treaties were signed.
And then, one day, seemingly spontaneously… communism fell. The Berlin Wall came down. The Soviet Union crumbled.
Talk about change.
Scorpions wrote a song about it… I remember it vividly.
Take me to the magic of the moment
On a glory night
Where the children of tomorrow dream away
In the wind of change.
1989. All of these world-changing events going on. I was 13. Maturing. About to enter high school. Rejecting religion.
Change. Both in the world, and in my life.
Today, the winds of change are blowing again.
I'm 36 years old. Jesus is an integral part of my life. And the world is changing before my eyes.
China is an economic superpower. Europe is in decline. Social change is everywhere: gay marriage, 40% of children born to single moms, drug use becoming legal, pornography rampant, abortion the holocaust of our time. Our president re-elected in spite of all historical precedents.
We're all scratching our heads… it feels as though our America is being blown away by the winds of change.
And they're blowing strong. Our culture here in America isn't what it was 20 years ago… certainly not 40 or 60.
How do we respond, as Christians?
I think I tweeted the options earlier:
Our culture is changing. We can either curse the darkness or shine a light. What's it gonna be?
You see, the challenge of today is this: change is a fact of life. The world doesn't look like we want it to. Odds are, it's not going back.
How do we respond to the fact we don't like this change?
How do we respond to the fact we're sickened by the influence of sin and evil we see?
How do we respond when we come under attack for our faith because our views are no longer the societal norm?
Do we curse the darkness or shine a light?
It appears to me we really don't have an option if we claim to follow Christ.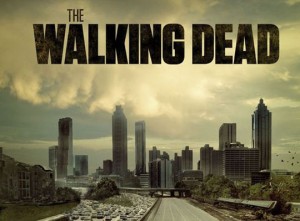 Over the past three weeks or so, I've developed a new bad habit. I'm slightly ashamed to admit it, but it's true.
Yes, I'm fascinated with "The Walking Dead". You know, the television show on AMC that's setting cable TV records?
Thanks to Netflix, I'm now almost halfway through season two. Completely sucked in.
No, it's not the zombie gore that I enjoy (although, truth be told, what red-blooded American male doesn't enjoy a good head shot?)… it's the character interactions. The idea of a post-apocalyptic zombified America, where small tribes of people simply are trying to survive. The concept of a time where the rule of law is completely gone, and survival presents the constant opportunity for stretching moral law… where what's "right" for survival runs completely counter to what's truly, well… right?
It's definitely interesting.
I suppose you could find this kind of drama in other shows. But you just can't have "The Walking Dead" without the "walkers"… the zombie hoards that simultaneously make the show a farce of believability yet enable the moral dilemnas for the characters that make it so fascinating. Zombies obviously make "The Walking Dead" tick.
So on Halloween, I suppose it's appropriate that I'm thinking of this. The Walking Dead. (If you don't make the connection there, I'm worried about you.)
Fact is, I see so many parallels to our lives.
You see, we ARE the walking dead. Our friends. Our neighbors. Our families. Yes, even ourselves.
Dead men (and women) walking.
Going through the motions of life, yet not really living.
Obsessed with the moment by moment details, yet numb to the big picture.
Satisfied only with fulfilling our own appetites (okay, that's really gross in context of zombies, I know… don't go there) for pleasure, power, wealth, beauty, recreation… you name it.
Alive, yet dead.
Spiritually, that's where most people truly are. And I'm not just talking about those lost in sin and trespass, numb to their perilous state. It's Christians too… people who know and believe they've been saved by the grace of God, yet are doing anything but living life for Him.
You see, we walking dead miss the point of life in so many ways.
Focused on self, we miss the joy of giving and sharing our life with others.
Focused on our hurts, we miss the blessing of sharing in others sufferings and bearing their burdens.
Focused on our inadequacies, we close our hearts to the possibilities God has for us and miss out on His miraculous provision.
Need I go on?
Fact is, Jesus didn't come to make bad people good, or good people better. He came to give dead people life:
The thief comes only to steal and kill and destroy; I have come that they may have life, and have it to the full. (John 10:10)
Are we going to embrace it?
If not, maybe we ought to apply as extras for a certain show. Granted, real-life "walkers" aren't nearly as terrifying… though maybe they should be.
If you've known me for very long, you're reading the title of this blog post and thinking, "Yeah, right. When words won't come? John?"
I admit, those thoughts are well-founded. Words generally come pretty easily to me. And in GREAT volume.
My mom said it best once (I don't know if this is a direct quote, but it's close): "John, you were late starting to talk. But you've been playing catch-up ever since."
Unfortunately, it's true. I'm a talker. I'm overly verbose. Even e-mails get far too long too quickly (ask my poor soccer parents).
I just generally don't have much issue coming up with something to say.
This morning, though? Words wouldn't come. They couldn't… as if stuck somewhere in my throat. I couldn't vocalize what I felt… couldn't put into words the thoughts and emotions running through my mind. Could barely even speak.
Prayer was HARD. Venting vertically (check my twitter feed for the source on that), nearly impossible.
Why? My heart was in agony over a little girl I've grown to love in Guatemala. A girl who told me I was like a dad to her. An orphan. Fatherless. A child I'd adopt in a heartbeat if permitted.
You see, I found out her story last night. I knew she was at Casa de Mi Padre for a reason. But to finally KNOW what she's been through… almost too much for me to handle.
Tears were shed as I read what she'd been through. Nancy warned me that I didn't want to know. But I had to. And she was right.
I went to bed depressed. Angry. Helpless. Hurting. Unable to process her story. Wanting her to know God's love and comfort. Unable to vocalize anything to Him.
I tried again this morning on the way to work. I still couldn't form adequate words.
This morning, I much more fully understood Romans 8:26-27:
26In the same way, the Spirit helps us in our weakness. We do not know what we ought to pray for, but the Spirit himself intercedes for us with groans that words cannot express. 27And he who searches our hearts knows the mind of the Spirit, because the Spirit intercedes for the saints in accordance with God's will.
When all we can pray is, "oh God." "Please God." "Help God."
When all we have to offer is sobbing and tears.
When words won't come.
The Spirit moves.
God hears.
He works.
Let me tell you, I am SO thankful for a God that needs no words to be moved. For a God that understands even our groans. That intervenes when we need Him most.
I am SO thankful for a God that truly is, "Abba, Father."