Archive for the 'Church Stuff…' Category
I'm a Christian… I don't think that's any secret. I try to make Jesus not just an everyday part of my life, but the very central part of my life. And I've got an awesome church family at Missouri Valley Baptist, where I attend worship every Sunday and serve alongside some amazing people.
So you'll understand that I was quite intrigued when I arrived home this evening to find some literature hanging on my door. The cover, facing out at me?
"CHURCH… THE WAY IT SHOULD BE"
Yes, this was a packet of information on another local church. The tagline sucked me right in. I was MOST curious to find out how church SHOULD be done.
Sadly, I was disappointed to find out that my church did just about everything wrong. Oh yeah… we're practically hell-bound, from what I read:
Contemporary worship? HOW COULD YOU?
No suit and tie? HOW CAN YOU DISHONOR GOD THAT WAY?
No King James Bible? HERETIC!
No Sunday evening service or Wednesday night service? GET THEE AWAY FROM ME SATAN!
You see, when I read the tagline on that flyer, I erroneously assumed this church's intent was to reach out to people outside a relationship with Jesus, maybe those who had felt burned by other churches. And it probably was (after all, they did include the plan of salvation and the pastor's testimony). But the message, as it came across?
"Hey, if you want the good ol' days of church again… if you're irritated and just can't take any more of that contemporary worship in your church… come check us out. We know how you like church. And we would love to have you come join us."
I truly hope that this church DOES reach someone who needs Jesus. Really. If one person comes to know God as a result… all the time, energy, and dollars they've placed into these packets was worth it.
But my prediction of the result of these packets? This church is most likely going to suck in some disgruntled members from other churches seeking a church that offers the old Burger King promise… "Have it your way". And those people will probably be perfectly happy worshipping God in that community… so long as it continues to do church… "THE WAY IT SHOULD BE".
Christians? Let's get about the business God intends. Beating back the darkness…. getting outside the walls of the church… truly making a difference in the lives of those who need Jesus most.
Shuffling of church members over personal preference just isn't what Jesus died for.
A couple weeks back, we were challenged by one of my good friends at church to consider the following passages of Scripture. I've been reflecting upon it recently, and find myself with more questions than answers.
1 Corinthians 12

1Now about spiritual gifts, brothers, I do not want you to be ignorant. 2You know that when you were pagans, somehow or other you were influenced and led astray to mute idols. 3Therefore I tell you that no one who is speaking by the Spirit of God says, "Jesus be cursed," and no one can say, "Jesus is Lord," except by the Holy Spirit.

4There are different kinds of gifts, but the same Spirit. 5There are different kinds of service, but the same Lord. 6There are different kinds of working, but the same God works all of them in all men.

7Now to each one the manifestation of the Spirit is given for the common good. 8To one there is given through the Spirit the message of wisdom, to another the message of knowledge by means of the same Spirit, 9to another faith by the same Spirit, to another gifts of healing by that one Spirit, 10to another miraculous powers, to another prophecy, to another distinguishing between spirits, to another speaking in different kinds of tongues, and to still another the interpretation of tongues. 11All these are the work of one and the same Spirit, and he gives them to each one, just as he determines.

12The body is a unit, though it is made up of many parts; and though all its parts are many, they form one body. So it is with Christ. 13For we were all baptized by one Spirit into one body — whether Jews or Greeks, slave or free — and we were all given the one Spirit to drink.

14Now the body is not made up of one part but of many. 15If the foot should say, "Because I am not a hand, I do not belong to the body," it would not for that reason cease to be part of the body. 16And if the ear should say, "Because I am not an eye, I do not belong to the body," it would not for that reason cease to be part of the body. 17If the whole body were an eye, where would the sense of hearing be? If the whole body were an ear, where would the sense of smell be? 18But in fact God has arranged the parts in the body, every one of them, just as he wanted them to be. 19If they were all one part, where would the body be? 20As it is, there are many parts, but one body.

21The eye cannot say to the hand, "I don't need you!" And the head cannot say to the feet, "I don't need you!" 22On the contrary, those parts of the body that seem to be weaker are indispensable, 23and the parts that we think are less honorable we treat with special honor. And the parts that are unpresentable are treated with special modesty, 24while our presentable parts need no special treatment. But God has combined the members of the body and has given greater honor to the parts that lacked it, 25so that there should be no division in the body, but that its parts should have equal concern for each other. 26If one part suffers, every part suffers with it; if one part is honored, every part rejoices with it.

27Now you are the body of Christ, and each one of you is a part of it. 28And in the church God has appointed first of all apostles, second prophets, third teachers, then workers of miracles, also those having gifts of healing, those able to help others, those with gifts of administration, and those speaking in different kinds of tongues. 29Are all apostles? Are all prophets? Are all teachers? Do all work miracles? 30Do all have gifts of healing? Do all speak in tongues? Do all interpret? 31But eagerly desire the greater gifts.

And now I will show you the most excellent way.

1 Corinthians 13

1If I speak in the tongues of men and of angels, but have not love, I am only a resounding gong or a clanging cymbal. 2If I have the gift of prophecy and can fathom all mysteries and all knowledge, and if I have a faith that can move mountains, but have not love, I am nothing. 3If I give all I possess to the poor and surrender my body to the flames, but have not love, I gain nothing.

4Love is patient, love is kind. It does not envy, it does not boast, it is not proud. 5It is not rude, it is not self-seeking, it is not easily angered, it keeps no record of wrongs. 6Love does not delight in evil but rejoices with the truth. 7It always protects, always trusts, always hopes, always perseveres.

8Love never fails. But where there are prophecies, they will cease; where there are tongues, they will be stilled; where there is knowledge, it will pass away. 9For we know in part and we prophesy in part, 10but when perfection comes, the imperfect disappears. 11When I was a child, I talked like a child, I thought like a child, I reasoned like a child. When I became a man, I put childish ways behind me. 12Now we see but a poor reflection as in a mirror; then we shall see face to face. Now I know in part; then I shall know fully, even as I am fully known.

13And now these three remain: faith, hope and love. But the greatest of these is love.
The church is the body of Christ, and it's made up of many parts. Believers fill many roles, and carry many titles… Pastor, Worship Leader, Deacon, Ministry Coordinator, etc. They do many tasks in the church… teaching, service, nursery, evangelism, music… yes, even janitorial. And Scripture tells us ALL are important for the proper functioning of the body. We suffer as a whole when even one part suffers.
So what do you do when the body of Christ is dismembered? How do we begin to address the hurt and pain of a church with non-functioning members? How do we address members who have essentially amputated themselves from the church? And how do we handle members who have tried to take a chainsaw to the body itself?
Sure. The easy answer is in Chapter 13… love. If the body of Christ truly demonstrated the love of Christ to one another… if we truly cared about one another as members of the same body should, we surely wouldn't have a dismembered church body. And we certainly wouldn't try to tear it to pieces.
But that's not the case in most churches… most churches are somewhat dismembered. In some churches, bodies are missing not just fingers and toes, but complete arms and legs!
You see, I can't help but be convicted as I continue to read over these Scripture passages. And I've got more questions than answers.
How do you begin to repair a dismembered church body?
What are some practical things a believer can do to bring healing to other church members who are hurting?
How should we address church members who bring hurt and pain to either individual members of the church body, or even to the church as a whole?
How do we ensure we remain conscious and aware of injury to the church body?
What can we, individually, do to help to keep the church body whole?
How do we check ourselves to be certain that we are not the source of church body dismemberment?
Any thoughts?
Today is the first day of the 90 Day New Testament Challenge for the men's ministry at my church, Missouri Valley Baptist. We start our reading of the entire New Testament together with John 1 and John 2. As we're reading Scripture together, my prayer is simply this:
Lord, show us something we've never seen in your word today.
For me, it's summed up by three words, "come and see".
We see the phrase twice in the first chapter of John. In the first instance, John and two of his disciples see Jesus passing by. John points out to them that it's Jesus, the Lamb of God… the Christ, our Savior. Immediately the disciples jump up and start following Him… literally. Jesus stops, turns around to them, and asks, "What do you want?" Their response was anything but profound… "Where are you staying?" Jesus's reply? "Come and see."
With Philip and Nathanael we see a similar exchange. Philip has just come to Nathanael, and told him that they've found the Messiah, Jesus of Nazareth. Nathanael replies, "Nazareth! Can anything good come from there?" Philip's reply? "Come and see."
Come and see.
Simple, isn't it? Come and see who this Jesus really is. Come and see just what it is that He teaches. Come and see the amazing things He can do. Come and see the difference He can make in a life. Come and see. Just come and see.
So what do you think? Are you ready to come and see this guy named Jesus? Maybe it's been a while since you've looked at Him, checked Him out, thought about who He is. Maybe you've never given Him a thought. Whatever the case, won't you come and see?
I am. Won't you join me?
I can't handle it anymore. Bad church signs, that is.
I see them everywhere… witty little sayings we Christians will get and might possibly even get a little laugh about. Yet things that surely do anything but help to draw someone searching for God on church property, let alone into the building.
You've seen them:
"Don't worry… Moses was a basket case too."
"Seven days without prayer makes one weak."
"This church is prayer conditioned."
"Hell has no thermostat."
Sure… intended to make a point, maybe even be humorous… but put yourself in the same soles of someone searching for God, someone who doesn't have any of the common Biblical knowledge background that most Christians share.
Not so helpful, huh?
Well… saw yet another one tonight, maybe one of the worst ever:
"If you're still alive, God isn't through with you yet."
Imagine being someone who has lived a rough live… someone who has rarely had something go their way… someone who has experienced nothing but suffering and hurt their entire life. Now imagine you're finally starting to search for God, and show up at this church. You read the sign.
Wow. Yep, I'm still alive. And God isn't through with me yet. All this nonsense I've dealt with… maybe God allowed it. And he's not through with me? All he's done is allow hurt and pain… forget him. No way.
Yeah. That's one way someone could read it.
Now of course I know what this church is trying to say… God doesn't give up on any of us. He's loved us since the beginning of time, before our very existence, and continues to love us forever. His saving grace is available to all, no matter how big the sin, and it's never too late to turn our lives over to Him.
But that's not how someone COULD read this.
Churches? Enough is enough. Think about what you're going to put on your sign. Think about it might be received by those you're supposed to exist for… people outside a relationship with Christ. Now think about whether what you want to put on your sign helps you reach those folks.
If it doesn't? DON'T PUT THE MESSAGE UP!
(End of rant. Sorry, had to let it out!)
This is the second in a series of posts on family focused faith, where I'm taking quotes from Voddie Baucham Jr.'s book and sharing some thoughts and questions to foster needed discussion on the topic. In the process, I hope to further refine my own thoughts as I work toward developing a discipleship program centered around family.
We continue to lay groundwork today, drawing more from the first chapter of Voddie's book, considering the idea that we live in an "anti-child culture":
Several months ago I was teaching this [that finding the place of ministry God has crafted us for should be the passionate pursuit of our lives] at a retreat for a church tucked away securely in the Bible Belt. During the retreat I suggested that for some of those college students the application of this biblical principle might mean earning a linguistics degree and translating the Bible into the languages of unreached people groups. As I looked across the room at the approving wide eyes and nodding heads, I added, "Others of you, however, may be called to have large families and train five or six kids in righteousness so that they will in turn impact the world for Christ." You could have cut the tension with a proverbial knife. This room of approving, eager young men and women turned into a convention of Martians hearing English spoken for the first time. The looked at me as if to say, "That was a good one. When are you going to say, 'Just kidding'?"

I took that opportunity to make an important observation. I pointed out the obvious discomfort in the room and asked, "When did we begin to hate children?" Suddenly the attitude in the room changed. These young people were being forced to examine a cultural assumption that has been allowed to trump biblical truth for far too long in our culture.
I would imagine this quote from Voddie's book will arouse some strong thoughts and opinions, but throughout the first chapter, he presents some difficult questions and evidences that lend support to the idea that we live in an anti-child culture… and that such culture has even began to permeate the church. Examples… how often have you heard the joke made to the prospective parent of a third or fourth child, "you have learned what causes that, haven't you?" How often do you see children characterized as inconveniences that get in the way of life? How many of us choose the size of our families based on income or convenience?
So what do you think? Do we live in an anti-child culture? Is such a culture also prevalent in the church? What does this mean for the church? How do we begin to encourage families to reflect God's design rather than cultural norms?
I know these are difficult questions, but I think they important ones that we need to consider.
Your thoughts?
June 12th, 2008 |
Comments Off

| Posted in » Church Stuff...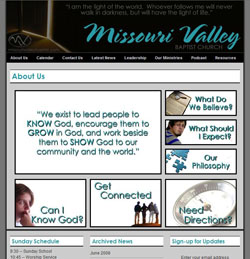 It's been a while in the making, and ultimately out of necessity as much as a desire to revamp it, but my church, Missouri Valley Baptist, has a new website.
For those of you who are interested in details (some of you may be considering your own church site), we've used WordPress for a content management system. We've switched webhosts as well, as the old one had recently made some changes in "upgrading" our package that rendered our website completely inoperable. We're now with Bluehost, and couldn't be happier! Much faster… more reliable… and unlimited space!
Some of the cooler features? First of all, we've integrated Google Calendar to make it easier to keep an updated listing of upcoming events online. We've also used Google Maps to create an interactive way for people to get directions to our church. For statistics, we're using both Google Analytics and Statcounter. RSS content is all running through Feedburner.
Anyway, check it out when you get a chance, and let us know what you think.
This Sunday, I'll be playing guitar publicly for the first time, helping to lead worship with my friend Paul Damery at our church (Missouri Valley Baptist). We haven't decided whether I'll be playing electric or acoustic yet… I suppose that just depends on what sounds better. Whatever the case… I expect that it will be both fun and terrifying, somehow all rolled into one. We'll see which emotion I'm left with when all is said and done…

I would ask one thing of those of you who'll be in attendance… don't get your hopes up too high for me, and be gentle when I inevitably mess up. Remember, I'm an amateur at this… I've only been playing for a year and a half now.
For those of you who have done this before… any advice?