Archive for the 'Devotions / Bible Studies' Category
[NOTE: This is a partial repost of an article I shared over at our Just 1 Ministries site. For the complete article, please check out the original here.]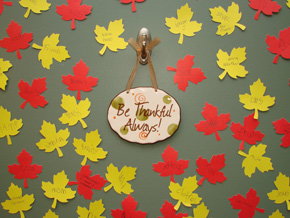 In case you've somehow missed it, Thanksgiving is tomorrow.
For most Americans, that means gathering with family, enjoying some good conversation, having a lot of laughs, eating ourselves into a turkey-induced coma, ultimately crashing in the living room around the television watching football.
It's a good time, no doubt.
But it's called "Thanksgiving" for a reason… it's a season where we really should take time to give thanks to the one who has given us so much.
Around our house, we start observing Thanksgiving around the 1st of November. That picture you see above? It's central to our celebration of Thanksgiving.
Years ago, Nancy had an awesome idea. We'd have a "wall of Thanksgiving". Each night at dinner, we'd spend time thinking about what we're thankful for, write it on a "leaf", and stick it to the wall. As the days go on, no repetitions are allowed. It makes all of us truly think about all of the things we have to be thankful for.
Family, friends, our home. Smiles, laughter, hugs. God, our church, the Bible. Football, jeeps, kittens. iPhones, internet, music. Clothes, school, television. Grandmas, Grandpas, our puppy.
The list goes on and on and on.
[For more of this article, check out the full version here.]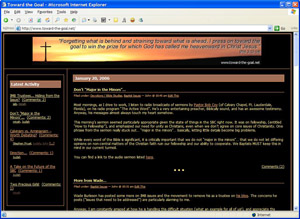 As I was looking over the site today, I just noticed something… my first posts date back to November 2005. Over six years ago.
Crazy stuff. Hard to believe I've been blogging that long. Granted, there have been a couple long periods without posts, and some serious dry spells of months. Even a couple shifts in the direction of the blog.
But six years. How is that possible?
Six years ago, I had just discovered a cool little country church that rocked my world (still there!). Six years ago, I had a three year old and a little girl who wasn't quite one yet. Six years ago, I wasn't yet in my thirties. Six years ago, I'm reasonably certain I had hair covering my entire head. Six years ago… well, I have trouble remembering six years ago.
Interestingly, six years ago I was actually over two years into my blogging experience. Two years earlier, when my oldest child was just barely one, Toward the Goal actually began. Back then, it was simply a devotional blog, on a free Christian blog webhost. That host was hacked at one point, so it disappeared. I'm not even sure the original webhost is still around.
Is there a point to this? Not really.
Just that six years is a long time. Yet somehow it's passed like a flash.
Psalm 39:5
5You have made my days a mere handbreadth;
the span of my years is as nothing before you.
Each man's life is but a breath.
So what are you going to do with this God-breathed life?
It will be over before you know it.
One thing I do know… I want to make every moment of mine count. How about you?
Ever reflect back on some of the great heroes of the Christian faith? Not necessarily the Biblical heroes (though they're great to study too)… but stories of people who have given everything for the God we love and serve? Maybe you're considering the patriarchs of the church. Maybe some of the great reformers of the church throughout history. Maybe you're thinking of martyrs and missionaries. I know you've got someone in mind.
Now think about their defining characteristics. Is fear one of them?
I hope not. Fear, though natural, cannot DEFINE the believer's life. It certainly cannot paralyze us from action.
Consider Scripture.
Matthew 8:23-27
23Then he got into the boat and his disciples followed him. 24Without warning, a furious storm came up on the lake, so that the waves swept over the boat. But Jesus was sleeping. 25The disciples went and woke him, saying, "Lord, save us! We're going to drown!"

26He replied, "You of little faith, why are you so afraid?" Then he got up and rebuked the winds and the waves, and it was completely calm.

27The men were amazed and asked, "What kind of man is this? Even the winds and the waves obey him!"
Think about this situation. The disciples are with Jesus, and have been for some time. They've witnessed Him doing amazing things… healing the sick, casting out demons, raising the dead… miracles of all kinds. They've seen Him preach to thousands, and confront the misguided religious leaders of the day. They should clearly have a sense that this Jesus isn't any kind of ordinary man.
So they're in a boat, crossing a lake in the middle of the night, and a storm comes upon them. The waves are high… the boat is rocking… they're getting cold, wet… and are terrified. But Jesus? Yeah… He's sleeping.
The disciples are wailing and crying out. "Lord, save us!" "Help us Jesus!" "We're going to drown!" "I don't want to die!"
Yep. They wake Jesus from His sleep. He rubs His eyes, looks around at the commotion… and shakes His head in disappointment.
"Oh you of little faith. Why are you so afraid?"
He stands up, rebukes the waves… and everything is calm again. I picture Him lying back down and going right back to sleep.
You see, Jesus isn't surprised by the storm. He's not worried about it… in fact, He's not concerned at all. His power extends beyond all this. And He expects His disciples to know this… not just as fact, but as heart-comforting truth.
Think about this in your life. Are you paralyzed by fear? Has God allowed some sort of storm to enter your life? How have you responded? Has God given you a great task of some sort? Are you hesitant to even start, scared about the difficulty that you might encounter along the way?
Think about things for a second. Have you committed and entrusted your life to Christ? If so, God is not just for you… He's with you.
You of little faith… why fear?
If we want to be people of great faith who can do great things as a result of our relationship with God, we've got to learn to trust Him completely. Worry simply can't be part of our makeup… it demonstrates lack of faith in God's provision.
Check out what Jesus had to say about the matter.
Matthew 6:25-34
25Therefore I tell you, do not worry about your life, what you will eat or drink; or about your body, what you will wear. Is not life more important than food, and the body more important than clothes? 26Look at the birds of the air; they do not sow or reap or store away in barns, and yet your heavenly Father feeds them. Are you not much more valuable than they? 27Who of you by worrying can add a single hour to his life?

28And why do you worry about clothes? See how the lilies of the field grow. They do not labor or spin. 29Yet I tell you that not even Solomon in all his splendor was dressed like one of these. 30If that is how God clothes the grass of the field, which is here today and tomorrow is thrown into the fire, will he not much more clothe you, O you of little faith? 31So do not worry, saying, 'What shall we eat?' or 'What shall we drink?' or 'What shall we wear?' 32For the pagans run after all these things, and your heavenly Father knows that you need them. 33But seek first his kingdom and his righteousness, and all these things will be given to you as well. 34Therefore do not worry about tomorrow, for tomorrow will worry about itself. Each day has enough trouble of its own.
Shouldn't this Scripture be an encouragement to us? After all, humanity… you and me… we're the objects of God's love. If we have a right relationship with Him, which comes at the great price as the crucifixion of His SON… how can we doubt that His love and care is sufficient to meet the bare necessities we have for life? And further, if we believe God has a purpose for which He wants to use us… how can have such trust without understanding that He'll meet the needs we have to fulfill those purposes?
You of little faith… why worry?
The question begs of us some serious self-examination.
As I've spent the past three months reading and teaching through the book of Matthew with my family, we've spent a LOT of time talking about faith. We've discussed what it means to have faith. We've discussed how God can work in our lives when we do have faith. We've discussed how faith in Christ is central to our salvation. We've discussed how faith is central to the miracles Jesus does in the lives of His people. We've discussed what our lives should look like when faith in Christ is central in our lives.
Last night, though, I was pondering God-sized dreams. As I thought about that concept, it occurred to me that it's quite likely the reason most of us don't have God-sized dreams comes back to this central issue… faith (or rather, lack thereof). A common phrase from Scripture came to mind: "You of little faith."
It's interesting how often Jesus used that phrase when teaching His disciples. And it's amazing how many areas of our lives it applies to. When we dare to examine Scripture, will we find that we too would be told, "You of little faith…"?
If you're interested in taking that trip with me, check back here over the next week or so. If we want to be used by God, perhaps in ways we can't begin to imagine, "You of little faith" had better not apply consistently in our lives.
Quick thought that's been on my mind tonight…
If we're going to pray for God to move and work in and through our lives, shouldn't we have God-sized dreams?
Seriously. How often do we pray and ask God to use us, with the sole intention of be willing only to take on little tasks for Him? Why are we so hesitant… perhaps so filled with doubt about His ability to work through us… that we're unwilling to take on big things for God?
Oh we of little faith.
A couple weeks back, we were challenged by one of my good friends at church to consider the following passages of Scripture. I've been reflecting upon it recently, and find myself with more questions than answers.
1 Corinthians 12

1Now about spiritual gifts, brothers, I do not want you to be ignorant. 2You know that when you were pagans, somehow or other you were influenced and led astray to mute idols. 3Therefore I tell you that no one who is speaking by the Spirit of God says, "Jesus be cursed," and no one can say, "Jesus is Lord," except by the Holy Spirit.

4There are different kinds of gifts, but the same Spirit. 5There are different kinds of service, but the same Lord. 6There are different kinds of working, but the same God works all of them in all men.

7Now to each one the manifestation of the Spirit is given for the common good. 8To one there is given through the Spirit the message of wisdom, to another the message of knowledge by means of the same Spirit, 9to another faith by the same Spirit, to another gifts of healing by that one Spirit, 10to another miraculous powers, to another prophecy, to another distinguishing between spirits, to another speaking in different kinds of tongues, and to still another the interpretation of tongues. 11All these are the work of one and the same Spirit, and he gives them to each one, just as he determines.

12The body is a unit, though it is made up of many parts; and though all its parts are many, they form one body. So it is with Christ. 13For we were all baptized by one Spirit into one body — whether Jews or Greeks, slave or free — and we were all given the one Spirit to drink.

14Now the body is not made up of one part but of many. 15If the foot should say, "Because I am not a hand, I do not belong to the body," it would not for that reason cease to be part of the body. 16And if the ear should say, "Because I am not an eye, I do not belong to the body," it would not for that reason cease to be part of the body. 17If the whole body were an eye, where would the sense of hearing be? If the whole body were an ear, where would the sense of smell be? 18But in fact God has arranged the parts in the body, every one of them, just as he wanted them to be. 19If they were all one part, where would the body be? 20As it is, there are many parts, but one body.

21The eye cannot say to the hand, "I don't need you!" And the head cannot say to the feet, "I don't need you!" 22On the contrary, those parts of the body that seem to be weaker are indispensable, 23and the parts that we think are less honorable we treat with special honor. And the parts that are unpresentable are treated with special modesty, 24while our presentable parts need no special treatment. But God has combined the members of the body and has given greater honor to the parts that lacked it, 25so that there should be no division in the body, but that its parts should have equal concern for each other. 26If one part suffers, every part suffers with it; if one part is honored, every part rejoices with it.

27Now you are the body of Christ, and each one of you is a part of it. 28And in the church God has appointed first of all apostles, second prophets, third teachers, then workers of miracles, also those having gifts of healing, those able to help others, those with gifts of administration, and those speaking in different kinds of tongues. 29Are all apostles? Are all prophets? Are all teachers? Do all work miracles? 30Do all have gifts of healing? Do all speak in tongues? Do all interpret? 31But eagerly desire the greater gifts.

And now I will show you the most excellent way.

1 Corinthians 13

1If I speak in the tongues of men and of angels, but have not love, I am only a resounding gong or a clanging cymbal. 2If I have the gift of prophecy and can fathom all mysteries and all knowledge, and if I have a faith that can move mountains, but have not love, I am nothing. 3If I give all I possess to the poor and surrender my body to the flames, but have not love, I gain nothing.

4Love is patient, love is kind. It does not envy, it does not boast, it is not proud. 5It is not rude, it is not self-seeking, it is not easily angered, it keeps no record of wrongs. 6Love does not delight in evil but rejoices with the truth. 7It always protects, always trusts, always hopes, always perseveres.

8Love never fails. But where there are prophecies, they will cease; where there are tongues, they will be stilled; where there is knowledge, it will pass away. 9For we know in part and we prophesy in part, 10but when perfection comes, the imperfect disappears. 11When I was a child, I talked like a child, I thought like a child, I reasoned like a child. When I became a man, I put childish ways behind me. 12Now we see but a poor reflection as in a mirror; then we shall see face to face. Now I know in part; then I shall know fully, even as I am fully known.

13And now these three remain: faith, hope and love. But the greatest of these is love.
The church is the body of Christ, and it's made up of many parts. Believers fill many roles, and carry many titles… Pastor, Worship Leader, Deacon, Ministry Coordinator, etc. They do many tasks in the church… teaching, service, nursery, evangelism, music… yes, even janitorial. And Scripture tells us ALL are important for the proper functioning of the body. We suffer as a whole when even one part suffers.
So what do you do when the body of Christ is dismembered? How do we begin to address the hurt and pain of a church with non-functioning members? How do we address members who have essentially amputated themselves from the church? And how do we handle members who have tried to take a chainsaw to the body itself?
Sure. The easy answer is in Chapter 13… love. If the body of Christ truly demonstrated the love of Christ to one another… if we truly cared about one another as members of the same body should, we surely wouldn't have a dismembered church body. And we certainly wouldn't try to tear it to pieces.
But that's not the case in most churches… most churches are somewhat dismembered. In some churches, bodies are missing not just fingers and toes, but complete arms and legs!
You see, I can't help but be convicted as I continue to read over these Scripture passages. And I've got more questions than answers.
How do you begin to repair a dismembered church body?
What are some practical things a believer can do to bring healing to other church members who are hurting?
How should we address church members who bring hurt and pain to either individual members of the church body, or even to the church as a whole?
How do we ensure we remain conscious and aware of injury to the church body?
What can we, individually, do to help to keep the church body whole?
How do we check ourselves to be certain that we are not the source of church body dismemberment?
Any thoughts?