Archive for the 'Pictures' Category
As human beings, we really do like to think we're in control of everything. Our career paths. Our families. Our finances.
Yes, even our faith.
But we're not. Not even close.
Only God is sovereign. Only He knows all of what has happened, what is happening, and what will happen.
Doesn't absolve us of responsibility for making good decisions, of being good stewards of everything He's given us… time, talents, money, decisions, etc. But there will ALWAYS be circumstances and situations utterly outside our control.
We received a big reminder of that today: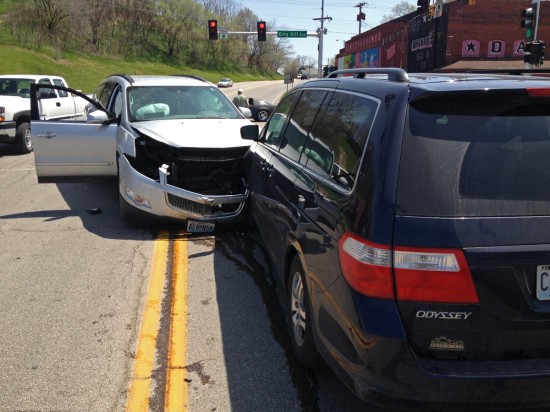 Yep, that's our van. While sitting innocently at a intersection, two vehicles violently collided in front of us. The silver Traverse you see in the photo smashed in our front bumper, and gave all of us a big jolt we weren't expecting.
It happened in slow motion (don't all events like this?).
I was sitting in the driver's seat, stopped at the red light. Nancy and I were having a good chat with the five kids in the back (ours and two friends). Everyone was having a good time, looking forward to a fun lunch together. We'd had a great morning at church… my best in probably four months.
WHAM!
I'm shocked into attention, and spot a silver Mercury flying in front of us left to right. I have no idea where it had come from.
I see the silver Traverse had spun towards us. Collision imminent.
I considered throwing the van into reverse. Nowhere to go… there was someone behind me.
I yelled to Nancy and the kids. "HOLD ON!!!"
I grabbed the steering wheel firmly. Stepped on the brake as hard as I could.
SMASH!
I turned to my family. "Everyone okay?"
I hopped out, knowing our part of the collision was minor. I ran to the door of the Traverse. Checked on the passengers, who were piling out. They seemed shaken, but okay.
I looked over toward the Mercury. It was a mess… a kid practically fell out of the driver's seat. Blood pouring down his forehead from some good cuts.
Injured, but okay.
People were coming from everywhere to the scene. Police had been called.
I double-checked my family. Still okay. Made a few calls.
Police and ambulance arrived. The scene was replayed in everyone's mind. Questions swirled. Organized chaos.
As I sit here tonight, I replay the scene in my mind. Nothing could be done differently. We were innocent bystanders, and our whole day changed in an instant.
My safe driving didn't matter. Our plans for the day… out the window.
Any control I thought I had… gone.
As if it were ever truly there.
I guess that's the point of all this, if there is one.
We're NOT in control, no matter how much we like to think so. Life is fleeting, and can be taken from us in an instant… whether we're ready or not. As Scripture says:
James 4:14, ESV
What is your life? For you are a mist that appears for a little time and then vanishes.
I don't mean to be dramatic, but seriously… do you ever realize what little control you really have? How you live by faith moment by moment that nothing outside our miniscule window of control enters the picture and throws our perfectly planned lives into chaos?
And if you live by faith, what are you placing your faith in?
Is your object of faith worthy? Is your object of faith reliable? Is your object of faith in control at all?
Worth thinking about, because you're not, and neither am I.
Personally, I can be okay with that. Then again, I know where my faith lies, and I know that He IS reliable.
December 24th, 2012 |
Comments Off

| Posted in » My Life / Family, Pictures

Last year, we put together our first family Christmas photo card. We got a later start this year, but we're continuing the tradition nonetheless!

Enjoy!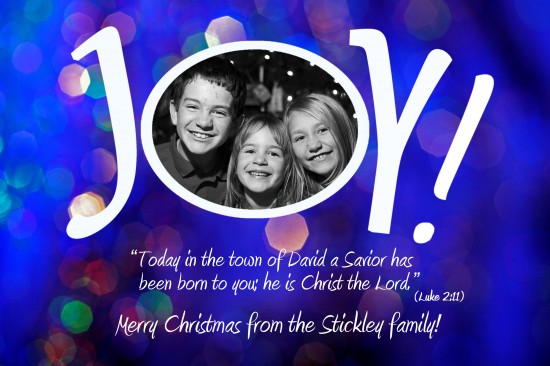 Christmas truly is good news of great joy; we have hope of salvation because Jesus came into our world!
Wishing all of you the best as you celebrate the birth of our Savior this Christmas!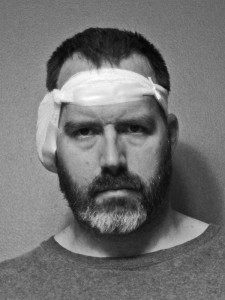 Yes, I know you're reading this blog post title and laughing your head off.
That's okay.
But I can't help but look in the mirror right now and be humored by the fact I look like I've been in a street brawl, a war, battling zombies, maybe fighting the Predator, or something along those lines. And then that oh so famous line from "Gone in 60 Seconds" hits me… "I am a BAD man…"
So I thought I'd share to bring a little humor to your day at my expense.
Anyway, this is what I look like post-surgery. Today, I had my 3rd round of surgery in this ongoing battle with cholesteatoma. After two surgeries on the left ear, I somehow managed to grow another one of these crazy tumors in my right ear.
The good news? Pretty much everything this time. Dr. Thedinger indicated to my wife following surgery (while I was completely zonked out; let me tell you, there is NO sleep like surgical sleep!) that the growth in my right ear was not very extensive. It has not degraded any of my bone structure yet, so that means that once everything heals up, my right ear should be pretty close to 100% of my "normal" hearing capability. So yes… good news for sure.
The bad news? Simply that I'm going to have to rely on my "bad" ear for all hearing while the "good" one heals. Dr. Thedinger performed some sort of laser heat-treatment today on the eardrum of my left ear to try to improve what hearing capability I have, but I don't know that I can really expect too much help there. Thanks to my previous cholesteatoma, I have no normal bone structure in there, so I've got a really whacked out frequency response. The good news is that this issue can be corrected with a hearing aid (hopefully only temporary until my "good" ear heals). I'll take that trial run… if it improves my quality of life in terms of hearing, I'm all for it.
Anyway, all said, today was a good day in my battle with cholesteatoma. And the plus?
A little over a week of "unplanned" vacation in which I plan to get FULLY rested. Yeah, I'll work from home to keep up (thanks to a very understanding boss!), but I'll take that any day.
For those of you dealing with cholesteatoma, remember… this condition isn't the end of the world by any means. Be thankful that your condition has been identified, and that it can be treated.
Sure, it would be better NOT to have it at all. I think about that at times. But if you're a person of faith, you've gotta believe there's a higher purpose for your suffering. Maybe that's only to make you appreciate what's yet to come beyond this life. Maybe it's to give you a story to share about how Christ sees you through. Maybe it's something altogether different.
I can tell you this.
You can't change the reality of what you're dealing with.
You CAN, however, change your ATTITUDE about your circumstance.
Sometimes, that makes all the difference in the world.
—————————————————-
For more readings on my battle with cholesteatoma, check out these posts:
November 5th, 2012 |
Comments Off

| Posted in » My Life / Family, Pictures
Dear God, thank you that we're not orphans and that we don't have to live in a cardboard box. Amen!
This was the prayer my children offered to God tonight before dinner.
I tried to contain my laughter and keep my demeanor steady and under control. After all, this was a prayer… one that, by all appearances, was a legitimate expression from my son's heart. Laughter simply was not an appropriate thing at the time.
I'm not sure I succeeded.
Allison immediately wanted to pray. Her prayer was similar, though she added more about the orphans whose names she knew. Heartfelt, yes… but full of giggles.
After her "Amen!", no one could help themselves. Massive giggling ensued. No one laughed hard enough to cry by any means, but the moment was a good one. Light-hearted. A good family moment we'll treasure.
Nancy and I looked at each other once things calmed a bit.
Well, at least we know it was effective.
Orphan's Table, that is.
If you've read what we've posted on our blog here recently, you'll know we had planned an "Orphan's Table" event at our home on Orphan Sunday. Though ultimately, we had to cancel it due to lack of interest (another story, one that was definitely frustrating for us), the preparations were clearly effective with our children.
You see, in the process of preparing for the Orphan's Table event, we wanted to make sure that we had a good visual for people that would be attending. We obtained a MASSIVE amount of cardboard boxes from a friend's business, and planned to "decorate" our basement with them. We wanted people to enter our basement for the event, instantly feeling as though they'd been transported to the home of a third-world family. A shack in a slum, floor lined with cardboard… walls insulated with the stuff. Maybe a single light bulb hanging down.
Ultimately, we scrapped that plan. Instead, in an effort to involve our children, we gave them an assignment.
Pretend you're an orphan family of three. No mom. No dad.
You're living on your own. Not in a house, but wherever you can find shelter. Use what you have in front of you to build yourselves a "home" that you'd live in if you were really orphans.
This is their "orphan home".
Don't get me wrong… I don't mean to trivialize the plight of orphans. I've not seen a shelter like this. This probably is anything but representative, having been built in a nicely finished basement by spoiled first-world kids.
But in involving our children, we hoped to give people an idea of just what kids might come up with.
You can see their shelter would hardly keep them warm in our 62 degree basement, let alone outside. Wholly ineffective to shelter them from wind, rain, cold. Something that probably wouldn't even last a day.
But it's what KIDS built.
Here in America, we'd call this a fort (in fact, that's exactly what it's become).
In a third-world nation full of orphaned kids? It might very well be a home.
A home inhabited by starving, diseased kids that need HELP to have HOPE.
So tonight, I'm both thankful and troubled. I'm thankful that through their role-playing, my children have a bit of an idea in their minds about what life as an orphan might be like. They don't want to live in a cardboard box.
But I'm troubled that we may have inadvertently trivialized the fact that real kids ARE living in cardboard boxes, and that we may have made "orphan play" the new game at our home. (Yes… that's something we'll correct if / when it becomes an issue.)
Moreso, though, I'm troubled that there are real kids out there that need help.
I'm troubled that the majority of American Christians really don't care enough to do something. After all, we're the same people that spend $13 BILLION dollars annually on our pets, blissfully ignorant that this same amount of money could very well provide for the basic nutritional needs of most (if not all) of the world's orphans.
So yes… we should be thankful that we're not orphans, and that we don't have to live in a cardboard box.
But we should also be compelled by this fact to do SOMETHING to help those that do.
—————————————————-
Reposted from "Thank You that We're Not Orphans", over at our ministry site.
August 16th, 2012 |
Comments Off

| Posted in » My Life / Family, Pictures

Our whirlwind summer is over! It's back to school time already!

Yes, we've now got all three of our kids in school all day. Nancy's going to have a lot of time to herself, which will be an adjustment for her. It also means we'll have homework for three kids… lunches to prepare for three kids… school activities for three kids.

Life will be even more busy.

But that's not the point… you don't care so much about that stuff as the main event of this post. Photos!

Here's our 4th grader!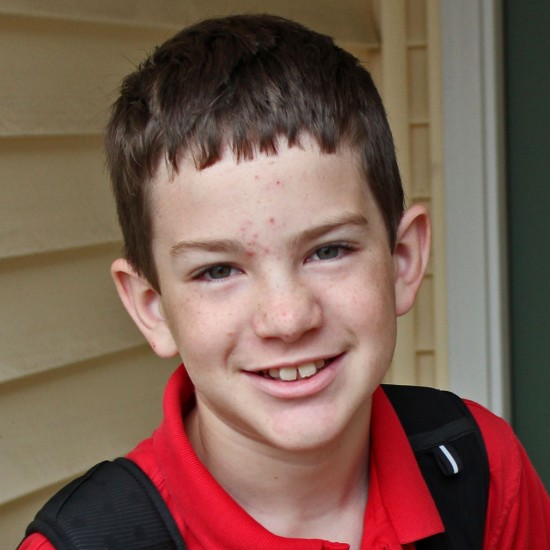 Our 2nd grader…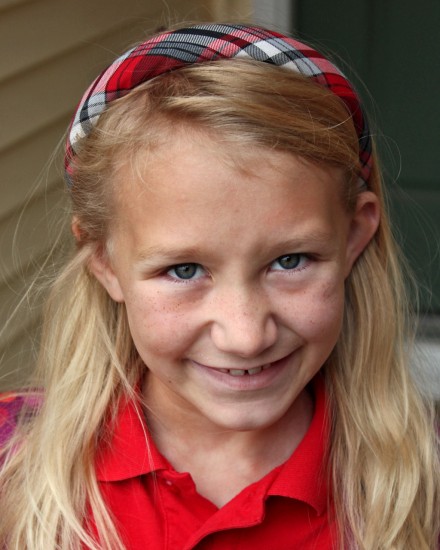 And… our kindergarten kid!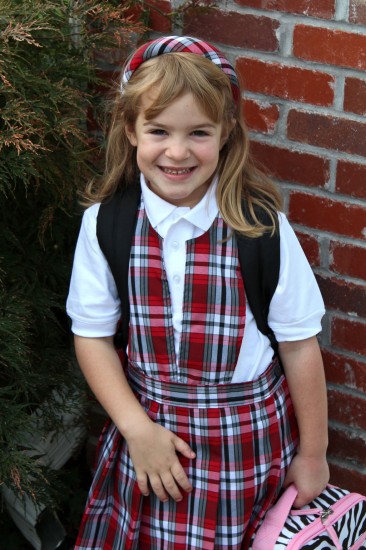 The wild bunch together!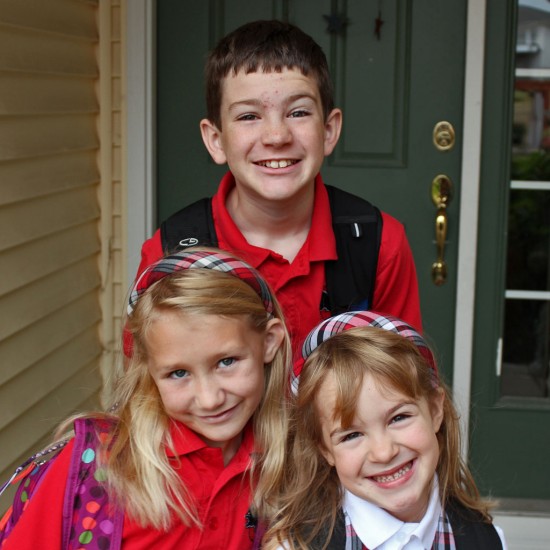 It's gonna be a great year!
August 15th, 2012 |
Comments Off

| Posted in » My Life / Family, Pictures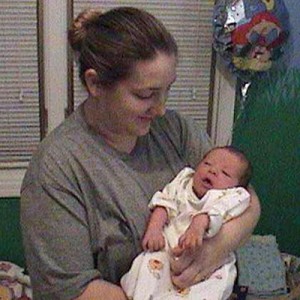 Ten years ago today, Nancy and I went to the hospital, anxious about the birth of our firstborn child. Just a couple days before, we'd learned that a c-section would be necessary, as our baby boy was a bit too big to be delivered naturally.
Family and friends had gathered. Our lives were about to be changed forever.
I remember being at the hospital for what seemed like an eternity. Nancy was being prepped for surgery. She was nervous… me too. Doctors and nurses treated her like a pin-cushion… IV's were NOT her thing (still aren't). The spinal block was extremely difficult. I paced the room.
Time went on. An eternity passed (I'm certain). Finally, I was called back to the surgical room for the delivery of our boy.
I arrived to find Nancy having trouble breathing. The spinal block was inserted too high, and she was losing feeling in her chest. Nurses attended, and we were both stressed. Awful thoughts entered my mind… would she make it? Would my boy? Would I gain a child, but lose my wife? I held Nancy as best I could, tried to reassure her that it would be okay.
Suddenly, we heard the wail of a newborn… you were here, Jeffrey.
Nancy struggled, but begged me to take care of our baby. I left her in the care of the nurses, and followed the nurses who were examining you. They let me cradle you in my arms, and I brought you to Nancy. It seemed as though she stabilized almost instantly. We both kissed your forehead as we shed tears together.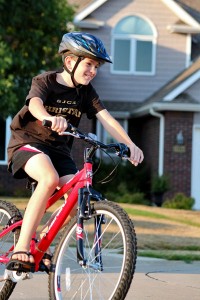 Our family was no longer just the two of us… the young, foolish married couple we were. We were parents. Parents of a beautiful child. Blessed, but overwhelmed at the responsibility we now had.
Today, that baby is now a young man. Growing… almost as tall as his mom. One heck of a bike rider. Loves ATV riding and hanging out with his Grandpa. School… well, let's just say it's not his favorite. He's a very bright kid. A LEGO genius. Future mechanic? Race car driver? Engineer? Something with cars seems almost a foregone conclusion.
We don't really know what tomorrow brings, obviously. Whatever the case, that young man is our boy, and we love him more than we could have ever imagined possible ten years ago.
Jeffrey? On this special day, we celebrate. You're entering double digits. No longer a baby… not hardly even a boy now, but a young man. Growing in strength and stature. Growing in your faith. Growing, hopefully, to become a man we'll be VERY proud to call "son".
So happy birthday, buddy! Keep seeking God, and let Him guide your ways as you continue to grow! You know that Mom and Dad will do their best to raise you well, but we're going to fail you in some way, at some point.
So fix your eyes on the one who gives ALL of us life. The one who loves you perfectly. The one who will NEVER fail you.
Jeffrey? Follow Christ, and live a life that rocks this world in ways we can only begin to imagine.
As most of you know, I enjoy photography, and the infrequent posts to this site are starting to reflect that almost solely.
Here's a shot from a recent walk we took in the woods at a local conservation area. Yes, we took the WHOLE family… an adventure in itself.