November 5th, 2012 |
Comments Off

| Posted in » My Life / Family, Pictures
Dear God, thank you that we're not orphans and that we don't have to live in a cardboard box. Amen!
This was the prayer my children offered to God tonight before dinner.
I tried to contain my laughter and keep my demeanor steady and under control. After all, this was a prayer… one that, by all appearances, was a legitimate expression from my son's heart. Laughter simply was not an appropriate thing at the time.
I'm not sure I succeeded.
Allison immediately wanted to pray. Her prayer was similar, though she added more about the orphans whose names she knew. Heartfelt, yes… but full of giggles.
After her "Amen!", no one could help themselves. Massive giggling ensued. No one laughed hard enough to cry by any means, but the moment was a good one. Light-hearted. A good family moment we'll treasure.
Nancy and I looked at each other once things calmed a bit.
Well, at least we know it was effective.
Orphan's Table, that is.
If you've read what we've posted on our blog here recently, you'll know we had planned an "Orphan's Table" event at our home on Orphan Sunday. Though ultimately, we had to cancel it due to lack of interest (another story, one that was definitely frustrating for us), the preparations were clearly effective with our children.
You see, in the process of preparing for the Orphan's Table event, we wanted to make sure that we had a good visual for people that would be attending. We obtained a MASSIVE amount of cardboard boxes from a friend's business, and planned to "decorate" our basement with them. We wanted people to enter our basement for the event, instantly feeling as though they'd been transported to the home of a third-world family. A shack in a slum, floor lined with cardboard… walls insulated with the stuff. Maybe a single light bulb hanging down.
Ultimately, we scrapped that plan. Instead, in an effort to involve our children, we gave them an assignment.
Pretend you're an orphan family of three. No mom. No dad.
You're living on your own. Not in a house, but wherever you can find shelter. Use what you have in front of you to build yourselves a "home" that you'd live in if you were really orphans.
This is their "orphan home".
Don't get me wrong… I don't mean to trivialize the plight of orphans. I've not seen a shelter like this. This probably is anything but representative, having been built in a nicely finished basement by spoiled first-world kids.
But in involving our children, we hoped to give people an idea of just what kids might come up with.
You can see their shelter would hardly keep them warm in our 62 degree basement, let alone outside. Wholly ineffective to shelter them from wind, rain, cold. Something that probably wouldn't even last a day.
But it's what KIDS built.
Here in America, we'd call this a fort (in fact, that's exactly what it's become).
In a third-world nation full of orphaned kids? It might very well be a home.
A home inhabited by starving, diseased kids that need HELP to have HOPE.
So tonight, I'm both thankful and troubled. I'm thankful that through their role-playing, my children have a bit of an idea in their minds about what life as an orphan might be like. They don't want to live in a cardboard box.
But I'm troubled that we may have inadvertently trivialized the fact that real kids ARE living in cardboard boxes, and that we may have made "orphan play" the new game at our home. (Yes… that's something we'll correct if / when it becomes an issue.)
Moreso, though, I'm troubled that there are real kids out there that need help.
I'm troubled that the majority of American Christians really don't care enough to do something. After all, we're the same people that spend $13 BILLION dollars annually on our pets, blissfully ignorant that this same amount of money could very well provide for the basic nutritional needs of most (if not all) of the world's orphans.
So yes… we should be thankful that we're not orphans, and that we don't have to live in a cardboard box.
But we should also be compelled by this fact to do SOMETHING to help those that do.
—————————————————-
Reposted from "Thank You that We're Not Orphans", over at our ministry site.
With Orphan Sunday coming up, Nancy and I thought it would be very cool to involve our kids in an orphan care project. We've spent some time thinking about and researching options, and with the help of our youngest daughter, Allison (she's five!), we've got a plan.
It's called "Chicks 4 Orphans"!
All credit goes to Allison. When she heard, "Chicks 4 Orphans", she got VERY excited. After we told her more about what "Chicks 4 Orphans" does, she promptly exclaimed, "I want to do that!"
We sure wish we could claim credit for the idea of "Chicks 4 Orphans"… we LOVE the concept. Fact is, it's not our idea. Chicks 4 Orphans is a sustainable poultry farming business of Every Orphan's Hope. Through Chicks 4 Orphans, the good folks at Every Orphan's Hope buy day-old chicks, raise them for six weeks, and sell them in communities devastated by HIV/AIDS. All proceeds help to provide care for orphans and widows in Zambia.
It's a great concept… one we fully support.
So here's the deal… our kids (Allison especially) are essentially giving you the opportunity to "sponsor" chicks for $4.00 / each to support Chicks 4 Orphans. If you see Jeffrey, Jenna, or Allison at church, school, in the community, wherever… we want you to support them. Sign up with them to "sponsor" a chick. Give them $4.00 for every chick you want to "sponsor". Help make a difference in the lives of orphans in Zambia.
If you're not local to the St. Joseph area, we don't want that to stop you. Feel free to send money our way for the chicks you'd like to sponsor. Checks can be made out to "Nancy Stickley", and sent to us at our Just 1 mailing address:
Just 1 Ministries
P.O. Box 8585
St. Joseph, MO 64508
Once we receive the donations, we'll gather everything given and forward it to Every Orphan's Hope.
If you feel better giving to them directly, that's certainly fine too. Checks should be made out to "Every Orphan's Hope", and may be mailed to the following address:
Every Orphan's Hope
3245 West Main Street
Suite 235/332
Frisco, TX 75034
Thanks so much for helping our kids to make a difference. They truly can't do it without you!
—————————————————————-
Reposted from "Chicks 4 Orphans", over at our ministry site, Just 1 Ministries.
August 16th, 2012 |
Comments Off

| Posted in » My Life / Family, Pictures

Our whirlwind summer is over! It's back to school time already!

Yes, we've now got all three of our kids in school all day. Nancy's going to have a lot of time to herself, which will be an adjustment for her. It also means we'll have homework for three kids… lunches to prepare for three kids… school activities for three kids.

Life will be even more busy.

But that's not the point… you don't care so much about that stuff as the main event of this post. Photos!

Here's our 4th grader!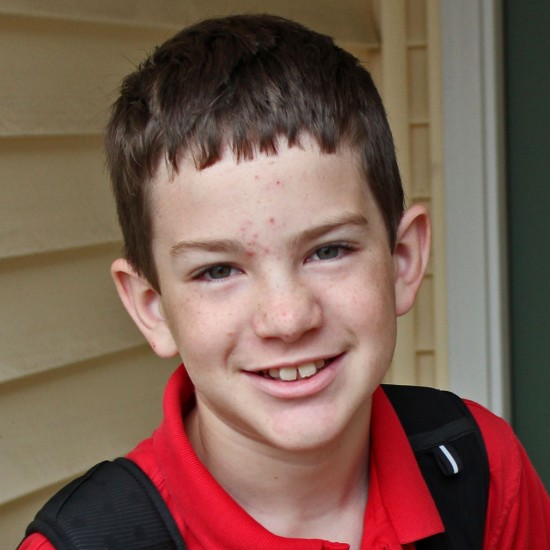 Our 2nd grader…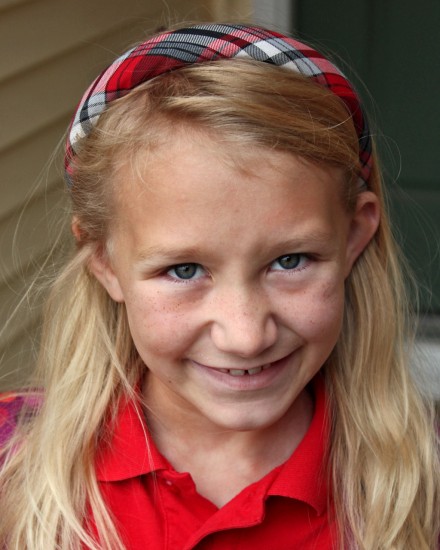 And… our kindergarten kid!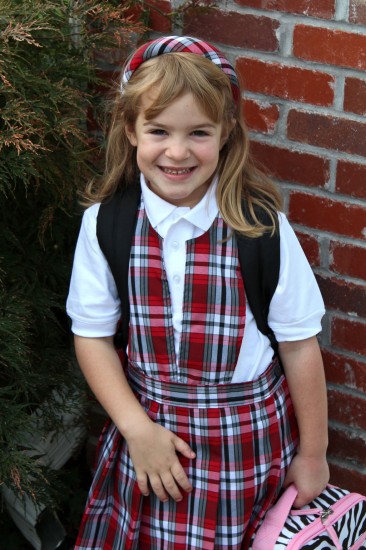 The wild bunch together!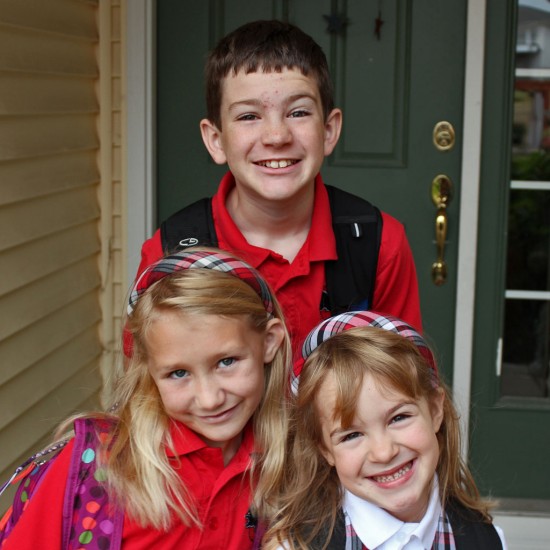 It's gonna be a great year!
August 15th, 2012 |
Comments Off

| Posted in » My Life / Family, Pictures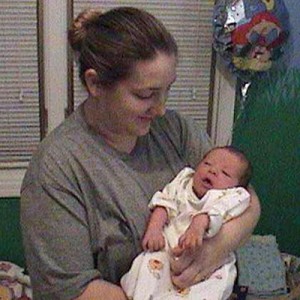 Ten years ago today, Nancy and I went to the hospital, anxious about the birth of our firstborn child. Just a couple days before, we'd learned that a c-section would be necessary, as our baby boy was a bit too big to be delivered naturally.
Family and friends had gathered. Our lives were about to be changed forever.
I remember being at the hospital for what seemed like an eternity. Nancy was being prepped for surgery. She was nervous… me too. Doctors and nurses treated her like a pin-cushion… IV's were NOT her thing (still aren't). The spinal block was extremely difficult. I paced the room.
Time went on. An eternity passed (I'm certain). Finally, I was called back to the surgical room for the delivery of our boy.
I arrived to find Nancy having trouble breathing. The spinal block was inserted too high, and she was losing feeling in her chest. Nurses attended, and we were both stressed. Awful thoughts entered my mind… would she make it? Would my boy? Would I gain a child, but lose my wife? I held Nancy as best I could, tried to reassure her that it would be okay.
Suddenly, we heard the wail of a newborn… you were here, Jeffrey.
Nancy struggled, but begged me to take care of our baby. I left her in the care of the nurses, and followed the nurses who were examining you. They let me cradle you in my arms, and I brought you to Nancy. It seemed as though she stabilized almost instantly. We both kissed your forehead as we shed tears together.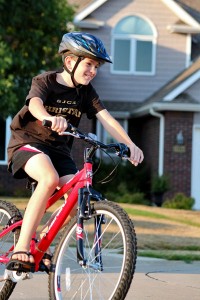 Our family was no longer just the two of us… the young, foolish married couple we were. We were parents. Parents of a beautiful child. Blessed, but overwhelmed at the responsibility we now had.
Today, that baby is now a young man. Growing… almost as tall as his mom. One heck of a bike rider. Loves ATV riding and hanging out with his Grandpa. School… well, let's just say it's not his favorite. He's a very bright kid. A LEGO genius. Future mechanic? Race car driver? Engineer? Something with cars seems almost a foregone conclusion.
We don't really know what tomorrow brings, obviously. Whatever the case, that young man is our boy, and we love him more than we could have ever imagined possible ten years ago.
Jeffrey? On this special day, we celebrate. You're entering double digits. No longer a baby… not hardly even a boy now, but a young man. Growing in strength and stature. Growing in your faith. Growing, hopefully, to become a man we'll be VERY proud to call "son".
So happy birthday, buddy! Keep seeking God, and let Him guide your ways as you continue to grow! You know that Mom and Dad will do their best to raise you well, but we're going to fail you in some way, at some point.
So fix your eyes on the one who gives ALL of us life. The one who loves you perfectly. The one who will NEVER fail you.
Jeffrey? Follow Christ, and live a life that rocks this world in ways we can only begin to imagine.
I don't update this site nearly enough. Especially for you family members that love to see pictures of my kiddos.
Here's a few recent photos of each of them to keep you happy.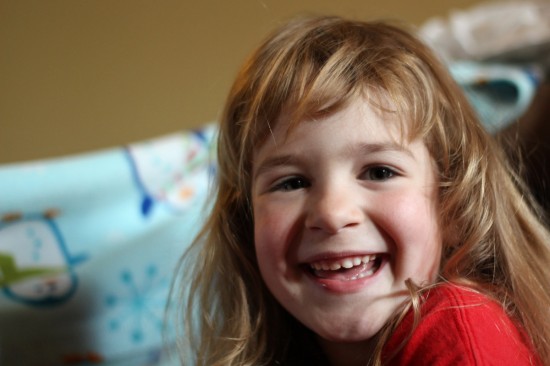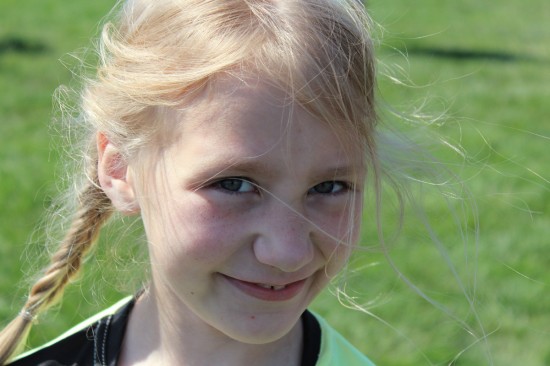 Yes, I've been blessed with beautiful kids.
Today, we had a blast… some serious fun at the lake with the kiddos and my folks. Unfortunately, Jenna was sick today, so she had to miss out (Nancy too, since she stayed with her at the house to take care of her), but Jeffrey and Allison LOVED swimming in the lake and tubing!
This series of photos about sums up the day…
Before: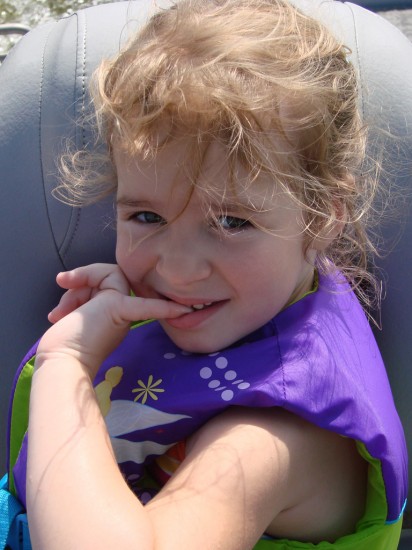 During: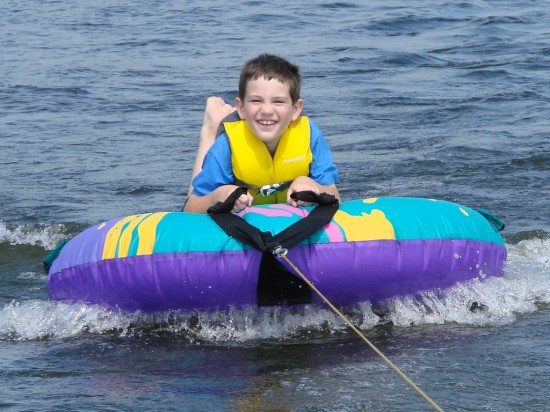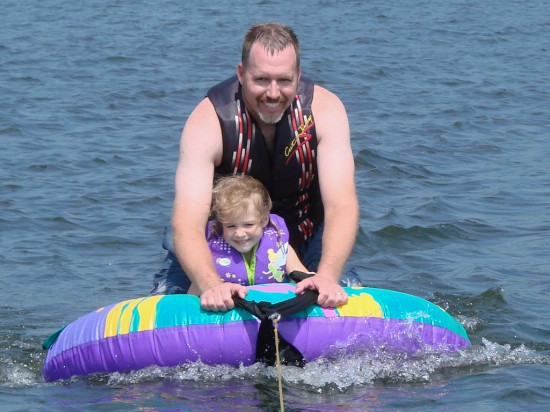 After: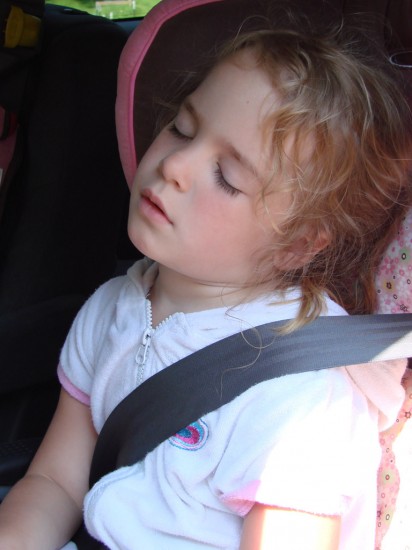 Yep. A bit of apprehension from both of them at first. Then a TON of fun. And exhaustion.
Definitely a great day.
Mother's Day was last Sunday… the kids and I did our best to make it special for Nancy. We pulled out almost all the stops… breakfast in bed… cards… gifts… everything a mom could want except some peace and quiet. That's a rare and precious commodity as you know.
Anyway, while I'm reasonably certain she enjoyed everything we did for her, I'm much more certain it's moments like this one that made her day great: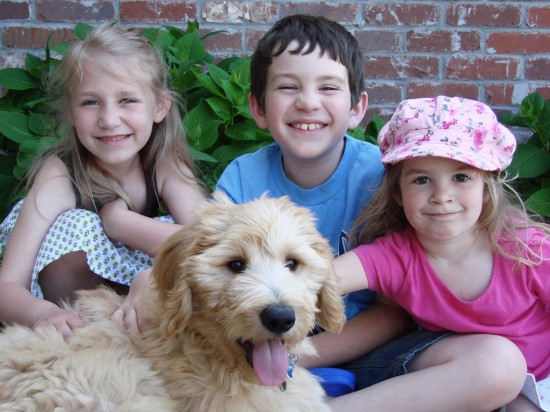 Yep, a rare family photo of all of the kids she loves so much… even the one with four legs.