Matthew 11:28-30
28Come to me, all you who are weary and burdened, and I will give you rest. 29Take my yoke upon you and learn from me, for I am gentle and humble in heart, and you will find rest for your souls. 30For my yoke is easy and my burden is light.
I don't know about you, but these verses are music to my ears. I'm weary. I'm burdened. And I need rest.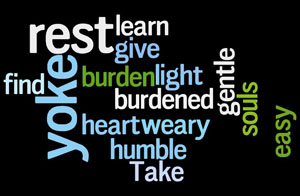 Eternally, yeah… I'm good with that. Faith in Christ assures of forgiveness for our sins, escape from the just punishment for them we deserve, a right relationship with a holy and perfect God, and eternity in heaven. This life has nothing for us that compares to the glory of that which awaits us afterward.
But I wonder, despite this kind of assurance in eternal matters, why is peace and rest so difficult to find in the here and now? Our daily lives are jam-packed with frustrating moments and circumstances. The struggle with sin wears us out. And God? Well, oftentimes he seems quite distant and uninterested in what we're dealing with (that's hardly true, of course, but it sure seems that way sometimes, doesn't it?).
Perhaps we've only ourselves to blame? Do we often struggle against Christ's yoke, and end up carrying more of life's burdens than God intends for us to? Or are we simply so weak that even a light burden seems unbearable?
I don't know what you think, but here's what I know… life isn't easy. Satan is real, and he wants us to struggle. Even when you've been faithful, the arrows he fires at us still land from time to time, and they hurt. And when we're out in front of Christ, rather than walking in step with Him as intended… well, we're a pretty easy target, and we'll take a lot of hits from enemy fire.
When you're hurting… remember that yoke of His. It's got two sides, and you can't wear the portion designed for Him. Stop trying, and let Christ give you the rest you need.