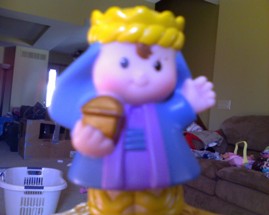 Okay… you see the picture. It's one my wife sent me via multimedia messaging earlier.
Now… who is it?
Yep, you're right. It's one of the wise men from the Little People Nativity Set. We purchased one of these several years back so that our kids could learn about one of the pivotal moments in history through playing (the entry of our Savior, Jesus Christ, into our world). We've taught the Christmas story many times. We've acted it out. We've explained what each person did. We've explained its significance.
But according to my daughter, Jenna?
This is "the mean guy who wanted to eat baby Jesus".
No kidding. I can't stop laughing.
Worse? She said she learned that at Cubbies (the young kids' Awana program she attends at church on Wednesday nights).
Obviously, we've still got some work to do.
(Not to mention a serious talk to have with a certain pastor about his kids' program!)